It's an Honor
We are so stoked to have been named to Outside Magazine's Best Places to Work in 2020! The list honors businesses and organizations that demonstrate a deep commitment to welcoming environments that prioritize work-life balance and employee engagement, and we are humbled to be listed alongside some amazing companies.
Created in collaboration with Best Companies Group, Outside's Best Places to Work awards 50 companies from a variety of industries including outdoor brands, marketing agencies, education, manufacturing, health and wellness industries and more. Outside Magazine and Best Companies Group compile the list through surveys of company employees that includes everything from leadership and company strategy, benefits and compensation to culture and extra perks.
"We work hard to create a culture that fosters a balanced life so our employees can get outside, maximize family time, and show up every day energized and supported by each other," said Oboz President Amy Beck. "It's an honor to be recognized and a tribute to the great group of individuals we have here at Oboz."
Inspired by Nature
We continue to be inspired by the 18 million-acre Greater Yellowstone Ecosystem surrounding the company's home. Along with being a natural testing ground for its footwear, Bozeman draws people from around the world as a gateway to Yellowstone National Park and is a community that thrives with outdoor activity, arts, and music.
Being named one of Outside Magazine's 50 Best Places to Work comes on the heels of the launch of our Bozeman Collection. Named in tribute to our hometown, Bozeman styles are built for mountain town living with technical trail performance features.
Want to join our team? See current job openings here.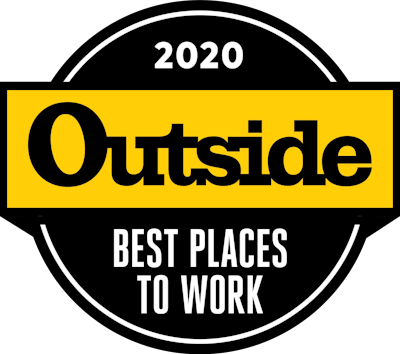 "

"Walking into the office on a normal day, you're greeted by our happy, astute customer service team, which consists of five folks and their dogs. Convos are along the lines of past-weekend adventures or plans for the upcoming weekend.

"
View the entire list