Are you ready to get into hiking but don't know where to start?
Welcome to Hiking 101: Getting into Hiking. Class is in session. Hiking; the word itself conjures imagery of mountain passes, alpine meadows full of wildflowers, fresh air, granola bars, spandex, and epic social media posts. For many people, hiking is almost an abstract concept. What is hiking, actually? How accessible is this mysterious activity? Is it leisure, or sport?
The short answer is: hiking is walking, but on natural surfaces and ideally in a natural environment. Hiking is as accessible as your closest trail, can absolutely be a leisure activity, and is my favorite sport!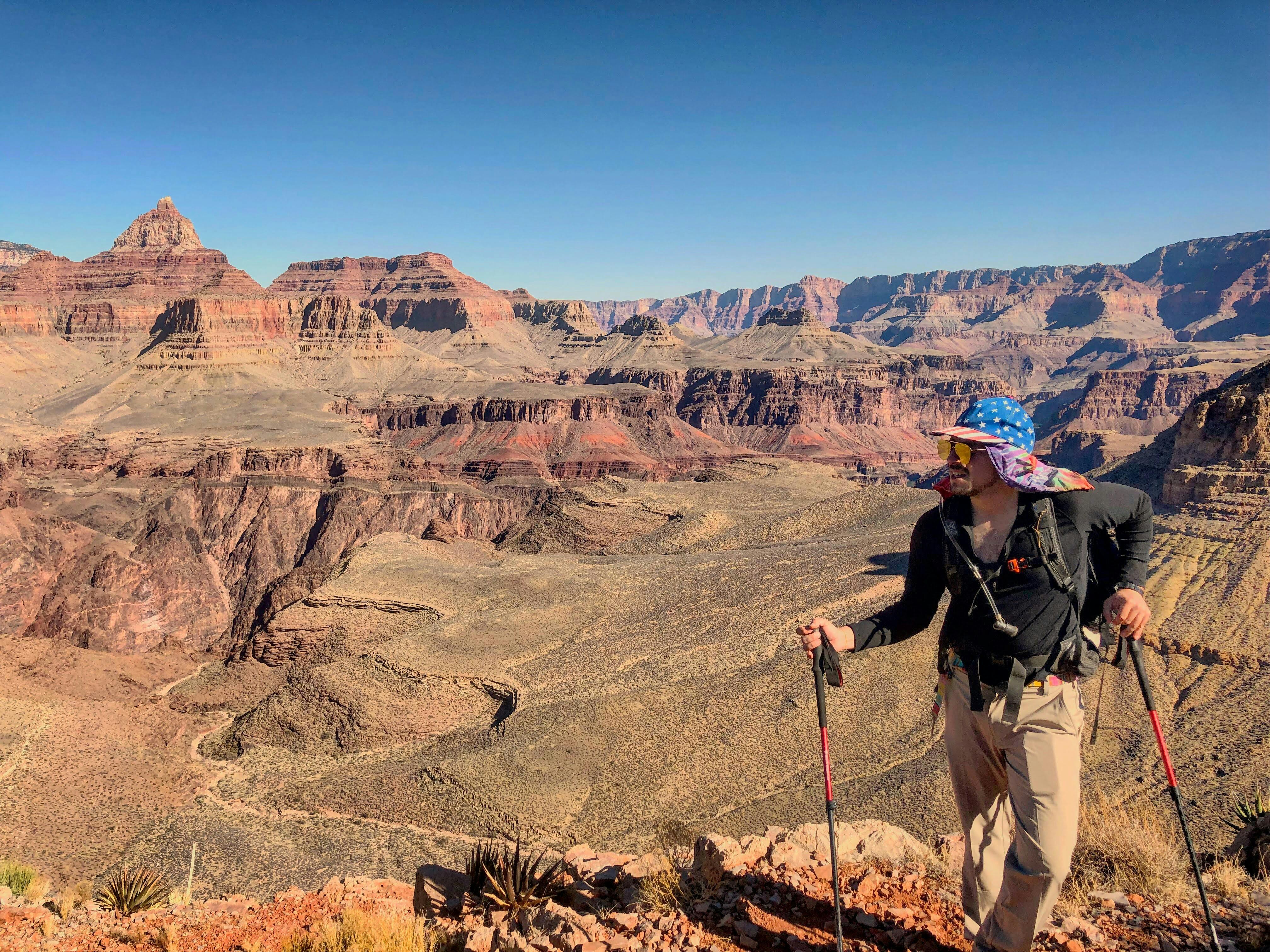 Why Hike?
Why do we hike? This is the question I often ask myself while ascending the Bright Angel Trail in Grand Canyon. I've had many such chances to ruminate on the subject and by the time I reach the South Rim, the best answer I can come up with is, "why not?" Luckily, author George Steck summed it up quite nicely in one of his books:
- I find the physical and mental challenge rewarding
- Hiking glorifies the essentials: food/water/one's ability to physically navigate terrain
- I like to experience the unity and camaraderie of the group under stress
- I seek wildness or the appearance of wildness
- I seek natural beauty and fun
Hiking is a great way to disconnect, find fresh air, find community, build confidence, exercise, and see beautiful things. I'm sold, so let's take a hike!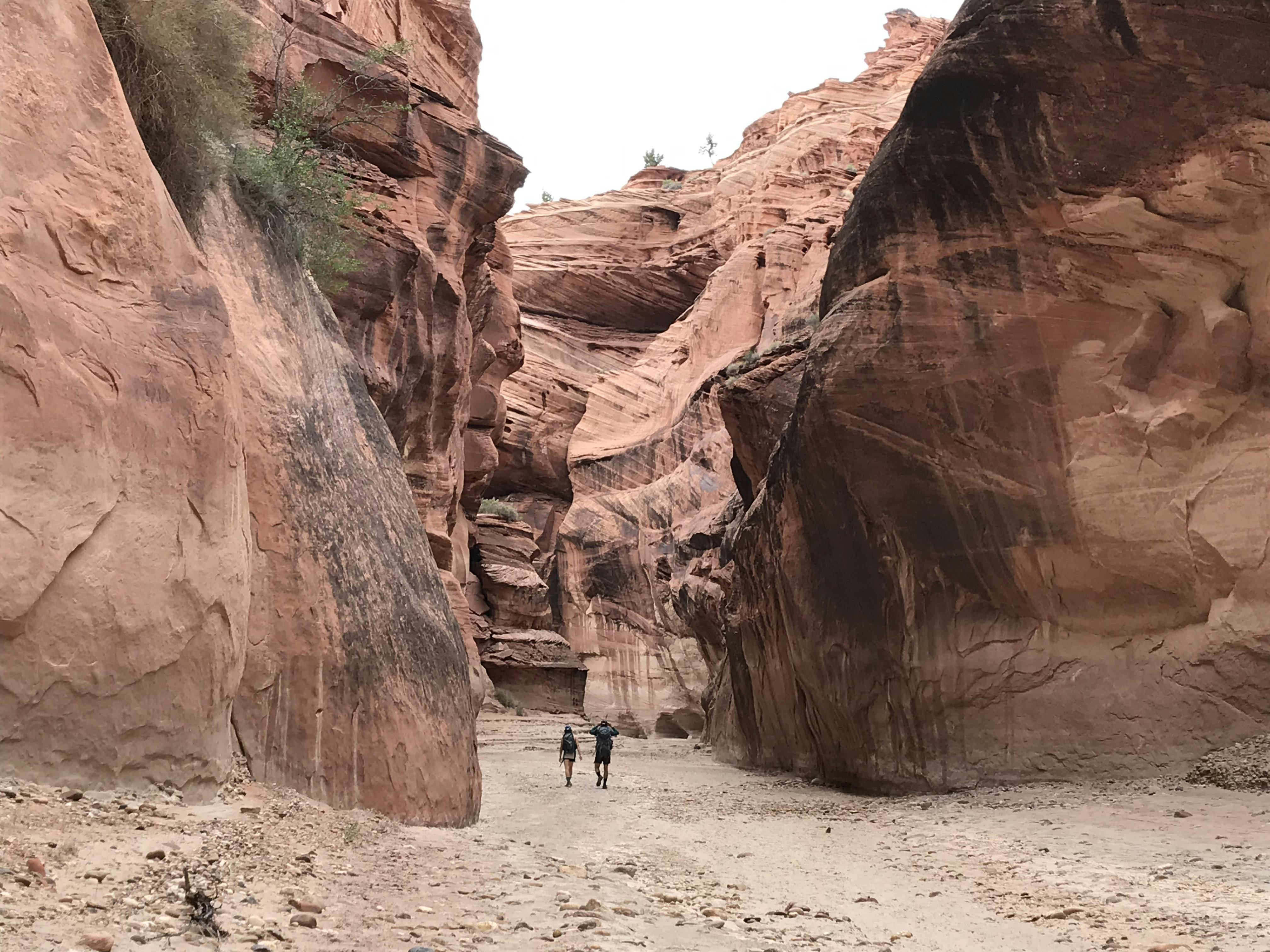 Getting Started
At its most basic, hiking is just walking in nature. While it helps to have fancy hiking gear and clothes, one can easily enjoy a mellow day hike in basic sportswear or versatile casual clothes.
For those who are ready to get into more serious hiking, there are some essential backpack items, ranging from necessary to prudent, that one should acquire before getting too far out there. Hiking can be a sport, and it comes with the inherent potential dangers of being away from roads and away from cell service. If you're interested in the health benefits of hiking (cardio strength and a great butt) or just want to get away from it all and see some remote wilds, then you should certainly invest in gear that can get you to the summit and back and give you security and peace of mind. Check out this article on The Ten Essentials for hiking if you are considering taking on bigger or multi-day adventures.
Essential Gear
Hydration: One of your first purchases should be a reusable water bottle or hydration bladder if you don't already own one. Many people claim that they can't drink from reusable bottles or bladders because of the plastic taste and so must use single use water bottles. As an outdoor professional with a life's experience on the subject my verdict is: you will get used to the "plastic-y" or metallic taste from your bottle or bladder! I promise.
Hydration bladders are my go-to for most hikes. The convenience of being able to drink without removing my pack or craning my shoulder to grab my bottle was a major sell for me. Cheapie bladders from big box stores tend to leak, so it's worth getting a reputable brand so you don't soak your gear and end up thirsty.
Nalgene water bottles have become the outdoor standard because they're lightweight, very durable and come in all sorts of funky colors. They also double as measuring cups, which can come in very useful when preparing food in the backcountry. Plus they have a wide-mouth design which helps for cleaning them. While I'm clearly a fan of Nalgenes, there are many other options for water bottles; even re-using old single use water or soda bottles works great.
Pro Tip: for long or multi-day hikes, I'll bring an empty Nalgene in addition to my bladder, just in case my bladder springs a leak. Bottles are also nice to have for drinking at camp.
Don't forget about your dog! You'll want to bring ample water for your hiking buddy and a little drinking bowl. These are my favorite trail-ready dog bowls.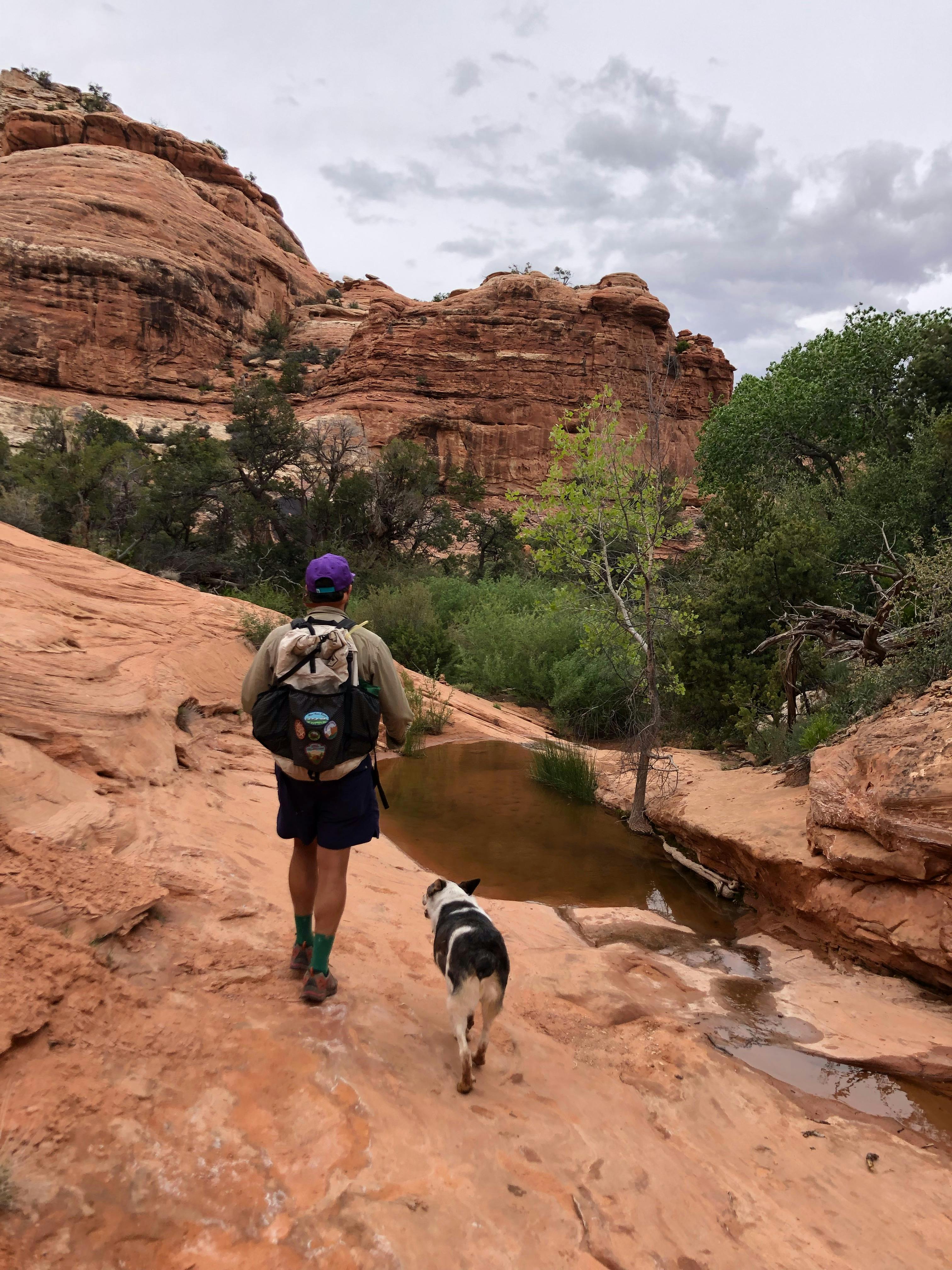 Backpack & Clothes
Backpack
There are so many options for backpacks. Your pack doesn't need to be fancy, especially if you're not going on rugged adventures. In fact, of the seven backpacks I own, the one I use the most is the most basic: my little daypack. My little daypack has no frame and can stuff down into its own pocket, so I can easily toss it into a bigger backpack or travel suitcase. It's also a rugged enough material to take a mild beating. For beginning hikers, look for either an internal bladder sleeve or easy access water bottle pockets. Hip-belts and sternum-straps are useful for carrying heavy loads, but some people find them uncomfortable (I like them). It's good to choose a pack that will have enough room for water, a jacket, and has a small pocket or two for little items.
Clothes
I'm not going to sit here and tell anyone that they need to go out and buy expensive clothes to go hiking. Purpose-built hiking clothing is really only necessary if you plan on doing extended adventures in the backcountry. The important thing for beginners is to wear comfortable and functional clothes; most sportswear would work fine. Pants or shorts with some stretch are nice so you have a good range of movement. I like long sleeves for sun protection. Bulky, heavy, chafe-y clothing like jeans are a hard "no" for serious hiking. For those who want to get into high-fitness hiking rather than leisure hiking, lightweight and moisture wicking clothes will be more important.
Most activewear is made of wool or synthetic fabrics which are favored because they can dry very quickly and are very lightweight. Having quick-dry clothing is important anytime you're hiking in cold conditions: you want your sweat to evaporate fast because wet clothes will make you colder. Cotton is good for really hot weather because it dries very slowly, so your wet clothes will make you cooler. Choose a fleece over your old cotton hoodie. Try wool socks instead of the white cotton socks from the 12-pack. Did I mention no jeans?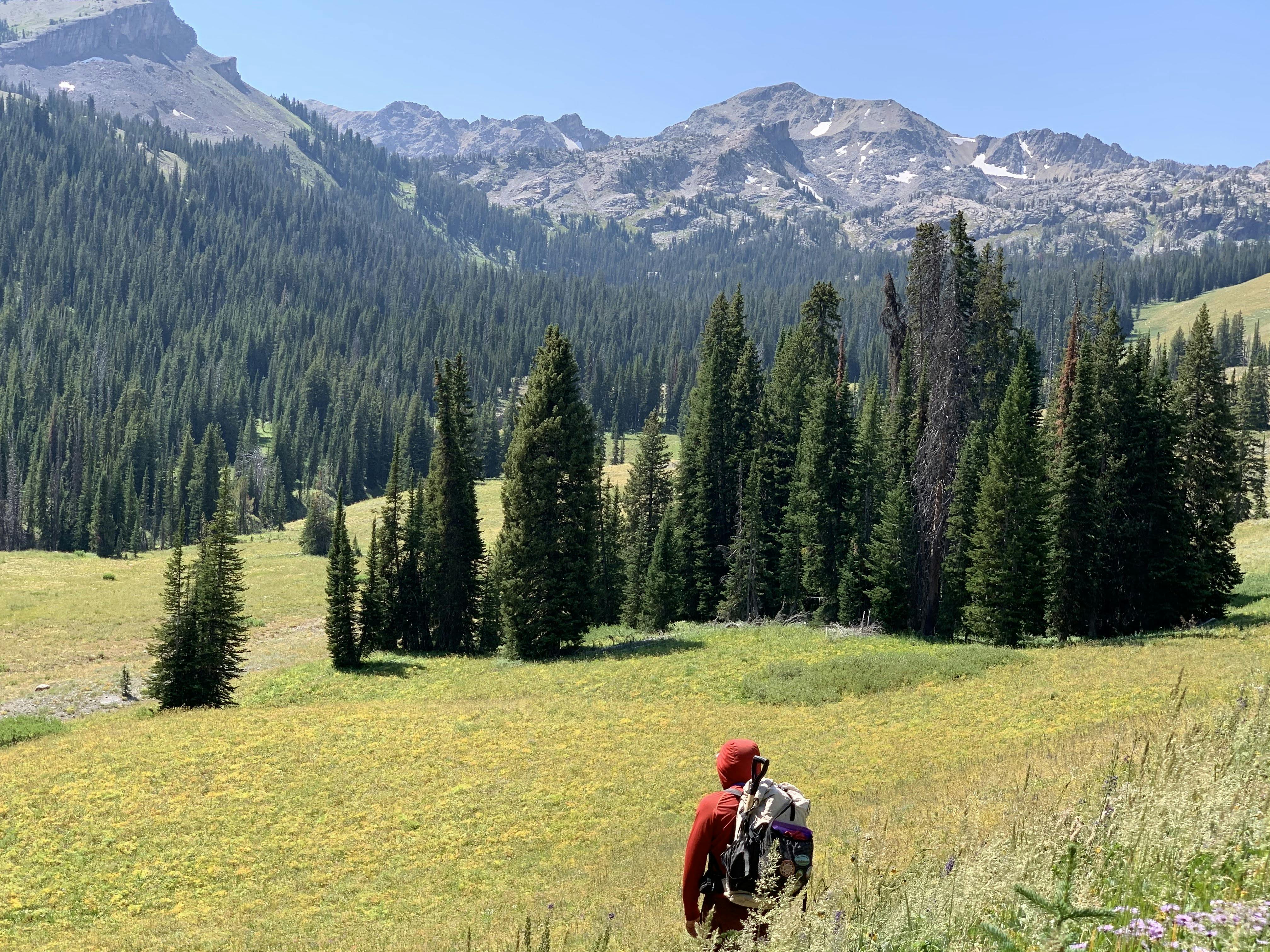 Other Essentials
Footwear
Most hikers will go for either a hiking boot or a low-top hiking shoe. The terrain and season are important considerations when choosing the proper footwear for your hike. Look for rugged tread on the soles and solid construction. I've got a bum ankle so I like the support of a high-top or boot, especially if I'm carrying a heavy pack. Lightweight hiking boots or trail running shoes are often good enough for mellow hikes if you're just getting into hiking, but it helps to have something sturdier on more serious hikes.
Other Useful Gear
Trekking Poles: I always bring one trekking pole for day hikes, and never go on a backpacking trip without both poles. Poles help joint stress or pain and add greatly to your overall stability on uneven terrain. And they make a good photo prop.
Headlamp: Headlamps are awesome to have in general, but especially useful if you're racing daylight at the end of your hike. Get one with a red-light setting you don't blind everyone when you're camping.
Knife: A knife is the ultimate survival tool. Also useful for slicing cheese and avocados on the trail.
Raincoat: Good rain gear is possibly the best way to keep morale when the weather turns. If there's one thing I would splurge on, it's a high-end raincoat.
Hitting the Trail
Before you get to the trail, it is important to familiarize yourself with Leave No Trace. Leave No Trace is an ethic that applies to many aspects of human existence but focuses on minimizing our impact on nature, as summarized by 7 principles. Show respect and pay tribute to our heritage and our unique planet by packing out your trash, refraining from vandalism, extinguishing your fires, and disposing of waste properly.
I can't understate the importance of being prepared and planning ahead. Responsible outdoor recreation begins before you even get to the trailhead; knowing what you're getting into can make the difference between a nice hike and a disaster. Do your research before you go for a hike! Ideally you want to show up to the trailhead already equipped with the following information: 
- Where you're going: trail names, junctions, etc 
- How long of a hike you're doing
- What kind of terrain/elevation change to expect 
- The weather forecast
And make sure you have the following:
- Adequate clothing based on weather, terrain, and hike length
- Adequate food and water
- Map andor GPS so you don't get lost
Maps/Apps
Finding a trail or accessible nature for hiking can be a challenge for people who live in urbanized or densely populated areas. Luckily there are a number of mobile apps designed for prospective hikers looking for a nearby nature spot. Map apps like Gaia, Trailforks, and Alltrails, to name a few, provide information about trails and public access areas, including mileage, difficulty, and directions. Look for an app with GPS and maps that work offline, as cell service is often spotty in the bush. For those of you looking for a trail buddy, websites like Meetup.com help hikers connect with each other and organize events. 
Food 
Going hiking on an empty stomach is like going for a drive with an empty tank. Your body needs fuel, especially if you're going to engage in strenuous physical activity. I bring lots of snacks whenever I go hiking, or anywhere else for that matter. For most day hikes I bring a variety of snacks ranging from nuts, fruits and bars to leftover pizza and gummy bears. On hikes which will be physically intensive, long miles or multi-day backing trips, it helps to shoot for high calorie and lightweight/pack-friendly foods so that you can optimize your nutritional intake while avoiding bulky or heavy items. Check out these blogs for more hiking food ideas.