Summer is in full swing
which means plentiful sunshine and extra long days, perfect for hitting the trail in search of your next mountain summit, alpine lake, slot canyon, or other outdoor adventure. 
While we love hiking in summer, there are a few things you need to keep in mind to stay comfortable on the trail as the temperatures start to rise. To ensure you have a safe and enjoyable time hiking this summer, here are our top hot weather hiking tips:
Wear the right clothing
When you're hiking in hot weather, opt for clothing that covers at least your neck, chest, and shoulders to protect your skin from harmful sun rays. While tank tops might seem like the best choice when it's hot out, they offer the least amount of protection.
No matter what season you're hiking in, you want to stay away from cotton, which traps moisture and will leave you feeling super sticky and sweaty (and potentially cause chafing). Opt for lightweight, moisture wicking, quick dry clothing - bonus points if it has UPF sun protection.
Pick light colored clothing, which reflects the sun's rays, over dark colors that absorb them. Loose clothing regulates your body temperature much better than tight clothing, so pick something that has a slightly baggy fit. It may seem counterintuitive, but we often choose lightweight long sleeve shirts for maximum protection and temperature control.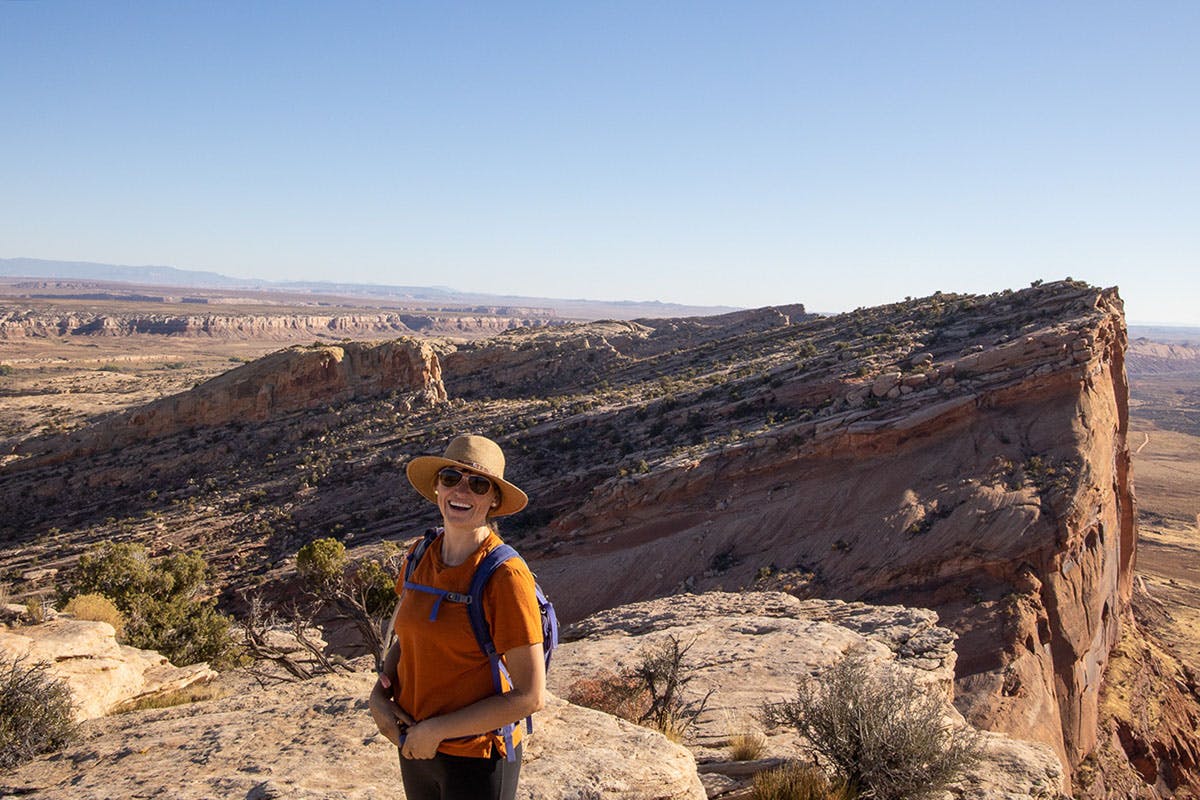 Pick the right hot weather hiking boots
The right shoes can make all the difference hiking in hot weather. You want to pick a lightweight, breathable hiking shoe that won't cause your feet to get too sweaty. Unless you're heading out on a wet trail, we recommend wearing non-waterproof hiking shoes that are more breathable than their waterproof counterparts. 
We're big fans of the new Oboz Sawtooth X Low hiking boot because they can pretty much tackle whatever terrain you encounter, from big boulders to loose scree and desert washes. Be sure to pair your hiking shoes with a lightweight, sweat-wicking hiking sock like the Darn Tough Coolmax.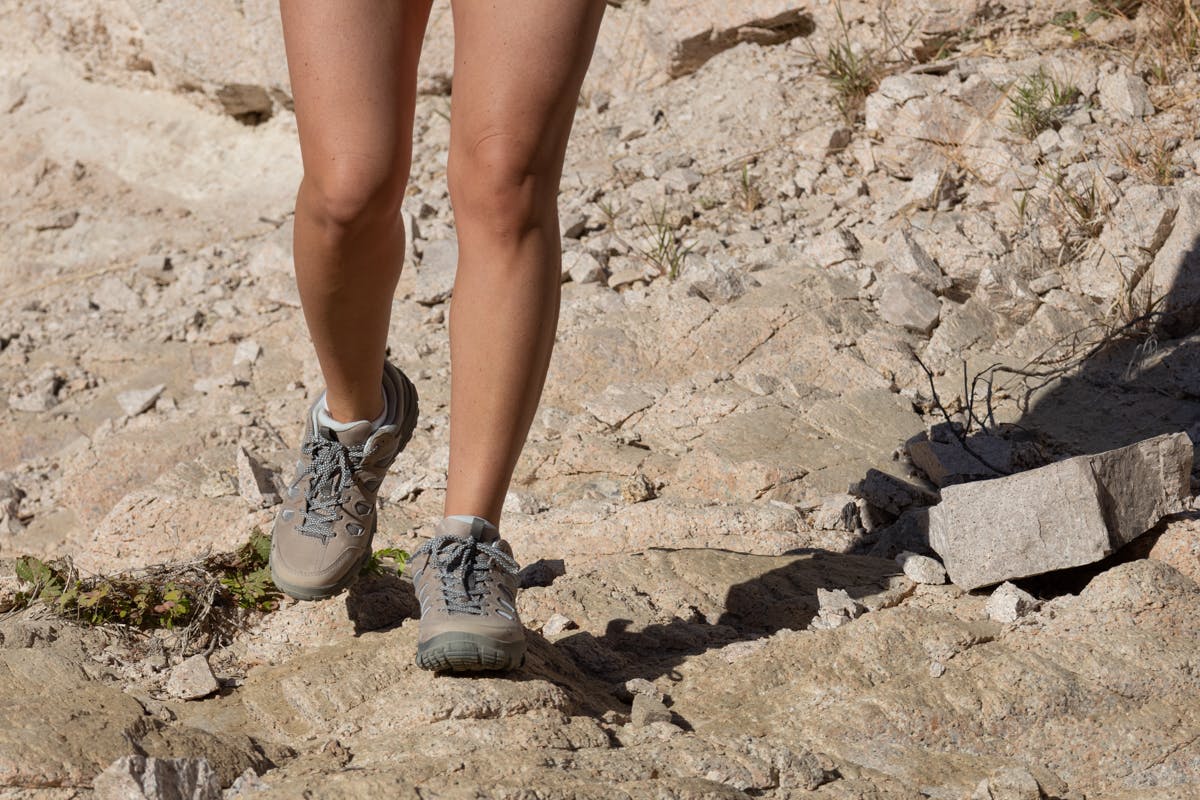 Don't forget a hat
Hats are an often overlooked piece of gear that are key for protecting your face and neck from the sun while keeping your head cool. 
When choosing a sun hat, look for ones with a wide brim that provides protection all around including the sides of your face and back of your neck. We also recommend hats with a drawstring band or chin strap which allows you to secure your hat if it gets windy on the trail. Alternatively, a baseball hat works too - although you don't get full neck protection, they're great if you're backpacking since since there's no back brim to rub up against your pack.
Stay hydrated
Hydration starts before you even hit the trail - make sure you are drinking plenty of water the day before you hike, especially if it's going to be really hot outside or you're going on a strenuous hike. 
Instead of packing a single water bottle, we recommend bringing water in a hydration pack so it's easier to carry on your back and you can sip as you go instead of having to stop to dig out your water bottle from your daypack each time you want a drink.
Always pack more water than you think you'll need - it's better to have extra and not need it! And if there's a water source on your hike, bring a water filter just in case you run out of water and need to fill up throughout the day. We also recommend packing electrolyte tablets and salty snacks, like nuts or trail mix.
Pack the right sun essentials
In addition to the right clothing and footwear, you'll want to pack a few essentials in your daypack to keep you protected and cool when hiking in hot weather. 
Bring lightweight, waterproof sunscreen so you can reapply every two hours, especially if you're going to be out all day or are hiking at altitude. It's easy to forget about your lips, so make sure you bring and reapply chapstick with SPF. If you don't want to wear a sun hat or are wearing a baseball cap, bring a buff to wear around your neck. You can even dunk your buff and your hat in water for an extra cooldown. Finally, don't forget to pack sunglasses to protect your eyes from harmful UV rays.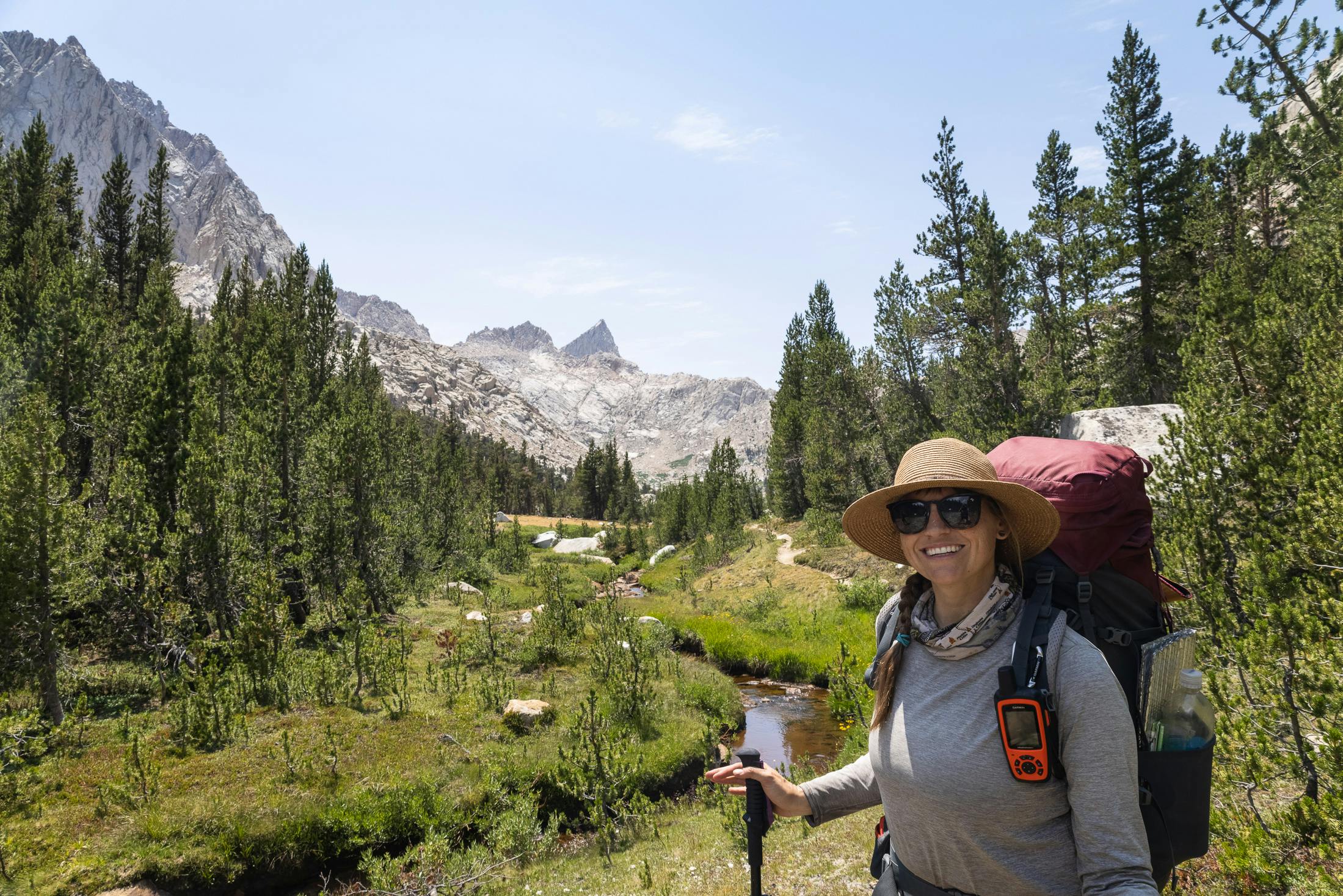 Get an early start
It's important to check the weather and trail conditions before you head out on a summer hike to ensure you don't get stuck hiking in peak mid-day heat (which is typically 11am-3pm). Hiking in hot temperatures in the summer can quickly become dangerous if you're in an area without shade or if you don't have adequate sun protection or water. To avoid a sticky situation, we'd recommend waking up early and hiking in the morning, or plan for a sunset hike.
Pick a shady trail
Shade is key to hiking during the summer, especially if you can't avoid a mid-day hike. Use a trail-finder app like AllTrails or Gaia to read the trail description and recent reviews to gauge how exposed the trail is. Try to pick a hike with adequate shade, like a deep canyon or forested trail, or get an early start if the trail is fully exposed.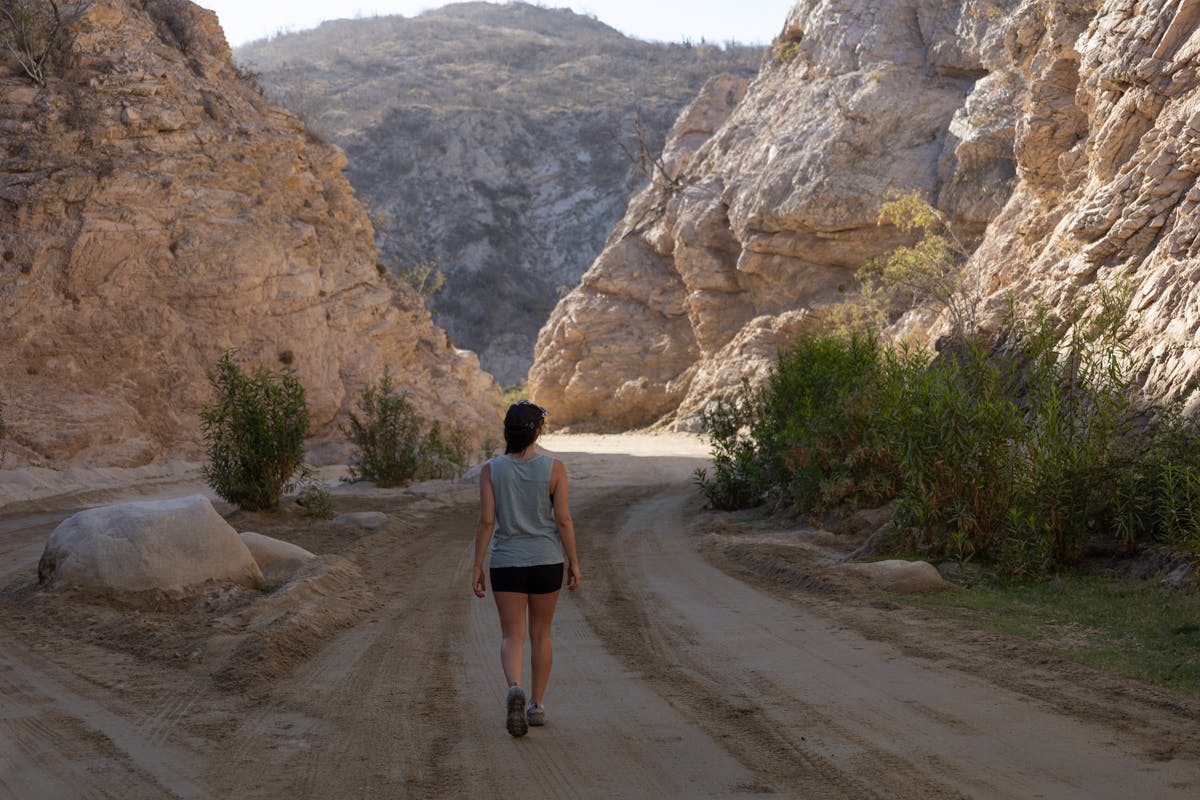 Take breaks in the shade
It can take 1-2 weeks for your body to acclimate to hot temperatures, so take it easy, especially if you're not used to the heat. Take breaks often and while this may seem obvious, choose to take water and snack breaks in the shade. You'll be surprised how much a few minutes in the shade will help you cool off! Sitting down will also give your muscles a chance to relax and also give your sweat some time to evaporate, cooling your body temperature.
Pick a trail near water
If there's not much shade, pick a trail that's close to a lake or stream so you can enjoy the cool lake breeze and even take a dip. Dunk your Buff, hat, and/or shirt in the cold water and drape over your body or head for extra coolness while the water evaporates.
Head to higher elevations
Summer is the perfect time to check off alpine lakes and mountains off your hiking bucket list! Heading up the mountains can easily shave 20-30 degrees from the air temperature, making it possible for enjoyable summer hikes, even in the heat of the day. Just remember that the sun is stronger at higher elevations, so be sure to wear a hat and sunglasses, and reapply sunscreen and lip balm often.
Go to our website, Bearfoot Theory, for resources on strengthening your outdoor skills, discovering exciting adventures, deepening your relationship with the planet, and connecting with a supportive outdoor community.