Author and Oboz Truist, Lindsay Kagalis is a Puerto Rican-Taíno mixed Indigenous photographer, outdoorist, and environmental advocate.
I'm the type of person who does a lot of dreaming. I can sit in my own head and think of countless places I'd love to visit, planning out all the wondrous details and exploring all the amazing things that could come from such a trip. Most times, however, these dreams only truly sat still in my mind. When it comes to traveling especially, I have always felt like I need to wait: wait for the perfect time, a travel partner, when things at home aren't so stressful. If there's one thing that the pandemic helped illuminate, it's that our time here is limited, and life is much too sweet and short to keep those dreams trapped away in the mind. So I decided to take charge, with safety in mind due to the pandemic, and set out to explore Utah's Might Five.
Traveling throughout Utah left me mesmerized — changing landscapes, colors, and energies at each turn. If you have the chance to explore this state at all — go for it! I hope this itinerary can provide some useful information in your planning.
Getting There
Coming from the East Coast, this was definitely one of the longest road trips I've ever embarked on. After all of my final calculations, I believe I tallied up approximately 7,200 miles! I spent just about two days driving out to Utah, making sure to focus on minimizing interactions with others to be safe in the midst of Covid. Here's what that looked like:
Purchase the America the Beautiful Pass: For $80, this pass allows you entrance into all National Parks, National Forest recreation areas, and more. It's the perfect option even if you just plan to go to three parks throughout the year.
Pack a cooler: I packed a 50L cooler to the brim with my perishables such as vegan cheeses, plant-based meats, dairy-free creamers, etc. This cut out the need to stop at any groceries stores on my three-week adventure.
Bring heaps of dried goods: Again, packing backpacker meals and items that didn't require refrigeration helped SO much in minimizing my need to stop for additional foods.
Gas station stops: To keep my interactions with others low, I did my best not to go inside any gas stations. I wiped down the pump and used hand sanitizer at each fill up. The times I needed to go in (ie to refill ice for the cooler), I made sure to wear a mask, keep distance, and properly sanitize afterwards.
No paid campgrounds: Trust me, it's not the most glamorous. But I was so amped up to get out west, I drove until I couldn't go a mile more, then found the nearest rest stop/truck stop for the night. Sleeping in my car for a large amount of my traveling allowed me to steer clear of other people, and I felt safe while spending nights in the wilderness and desert alone. Instead, my biggest tip for road-tripping AND exploring Utah is finding free camping spots via FreeCampsites.net! Most of the time, I only had one or two other vehicles in the same vicinity, and there was plenty of space between us — meaning quiet nights under the stars, soaking up all of Mother Nature without generators blaring, campers being rambunctious, or overcrowded campsites.
Necessary items: Camp stove for cooking since there was a fire ban statewide, sandals for lounging, and Obōz Sawtooth II Mids for getting out on trail.
Additional Stop
If you have the time, I highly recommend taking a drive out to the Bonneville Salt Flats, west of Salt Lake City. I set up camp on nearby BLM lands the night before, but you could even simply sleep at the "entrance" to the salt flats! They are located just off the highway at a pull off area — don't let the location fool you though. I arrived just before sunrise, and wow, what a spectacular view. The flats go on for what seems like ages, with ragged mountains lining the horizon. I had the entire area to myself just until the sun began warming the air. This is definitely a detour I recommend taking the next time you visit Utah!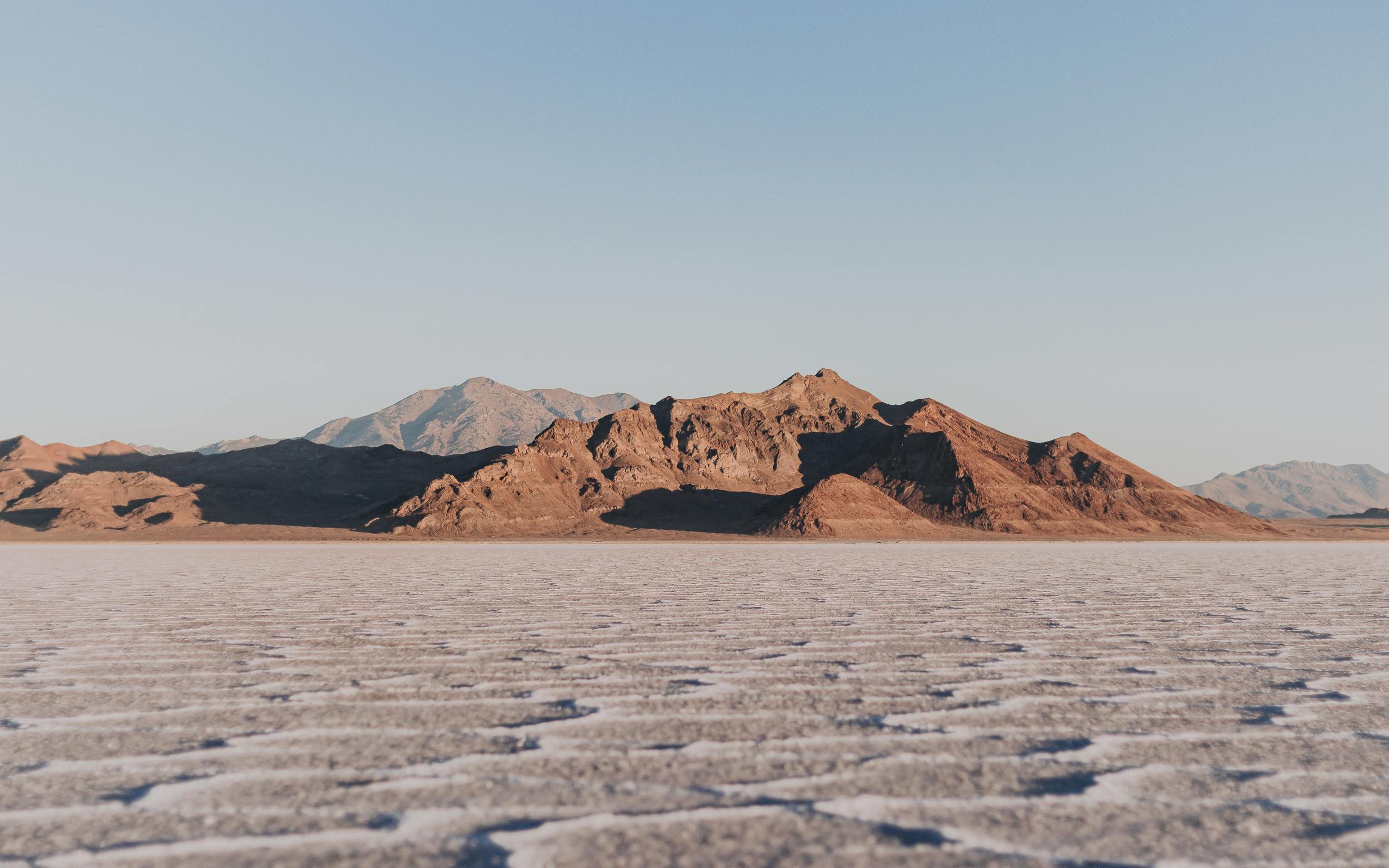 Arches National Park
Núu-agha-tʉvʉ-pʉ̱ (Ute) Indigenous Lands
After a quick one-night stay in the Uinta-Watasatch National Forest near Salt Lake City, I packed up and made the almost four hour drive to Moab to get my trip going. After driving approximately 24 hours total to get out West, this drive was a piece of delicious cake. It also helped that every turn mean another incredible mountain range, desert landscape, and humongous rock formations — nothing like I've ever seen.
Arriving in Moab, I must say: this is a town I'd love to explore more than the three days I had. The entire area was bustling with bikers, hikers, climbers — anyone who loves and adventure and being in the outdoors. I knew I wanted to see the sunrise in Arches the next morning, so I quickly found a campsite on nearby Bureau of Land Management (BLM) lands, popped up camp, and got settled in for the night. The next morning, I enjoyed a piping cup of coffee while watching the full moon set and boogied over to Arches National Park.
I'll be completely honest — I cried almost the entire time after passing the gate to Arches. The towering canyons and landscape are overwhelming, in the best way. I had a full day ahead, and I was beyond stoked to strap up my hiking boots and hit the trail! First stop: Devils Garden Primitive Trail.
Tip: Get there early. Even though I saw only a handful of people on trail, the parking lot was over 3/4 full when I arrived (around 8AM). This also helps if you are hiking in warmer months to avoid the heat of the day!
Route: When you approach Landscape Arch, you can continue to the left or take more primitive, sandy trail to the right. Go to the right! I felt like I had the entire desert to myself up until I reached the Double Arch.
Time: Approximately 7 miles total. I completed the hike in just about 5 hours, including plenty of time for photos.
Major landmarks: Landscape Arch, Double Arch, Private Arch.
After the hike: The desert sun is no joke, even in mid-October. Make sure you use the designated water-bottle fill station to refill your water bottles and stay hydrated.
Next up: Delicate Arch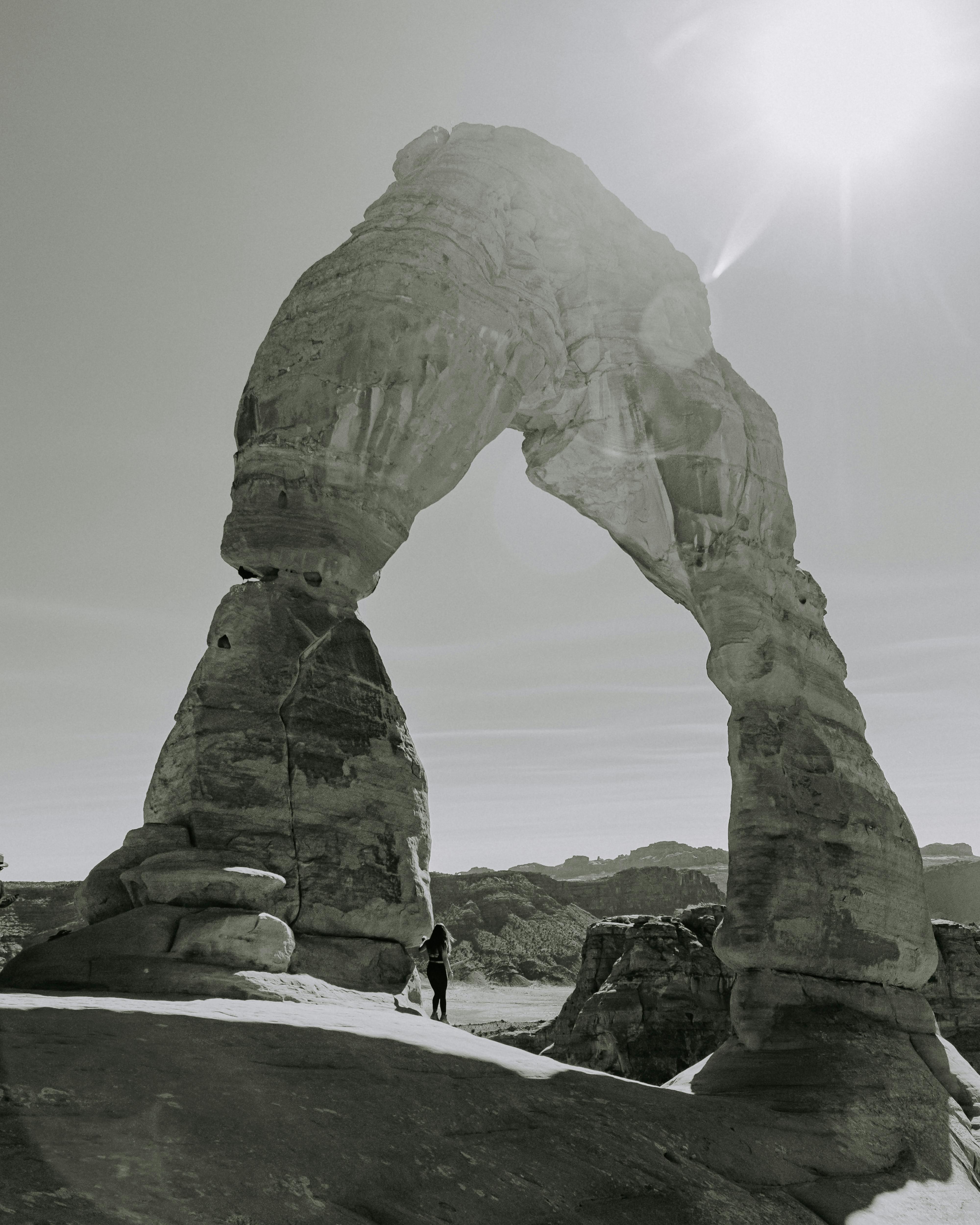 Tip: This one is debatable. I ended up hiking in the hottest time of day, around 2:45PM. While the sun was definitely strong, I also enjoyed far less crowds than other popular times, including early in the morning or for sunset. If you decide to go mid-day, bring at least 2L of water and some snacks for when you reach the arch.
Time: Approximately 2 hours, including photos. The hike is only approximately 3 miles total, but it definitely felt like the longest 3 miles I've ever hiked.
Major landmarks: Delicate Arch — the same arch that you see on Utah's license plates.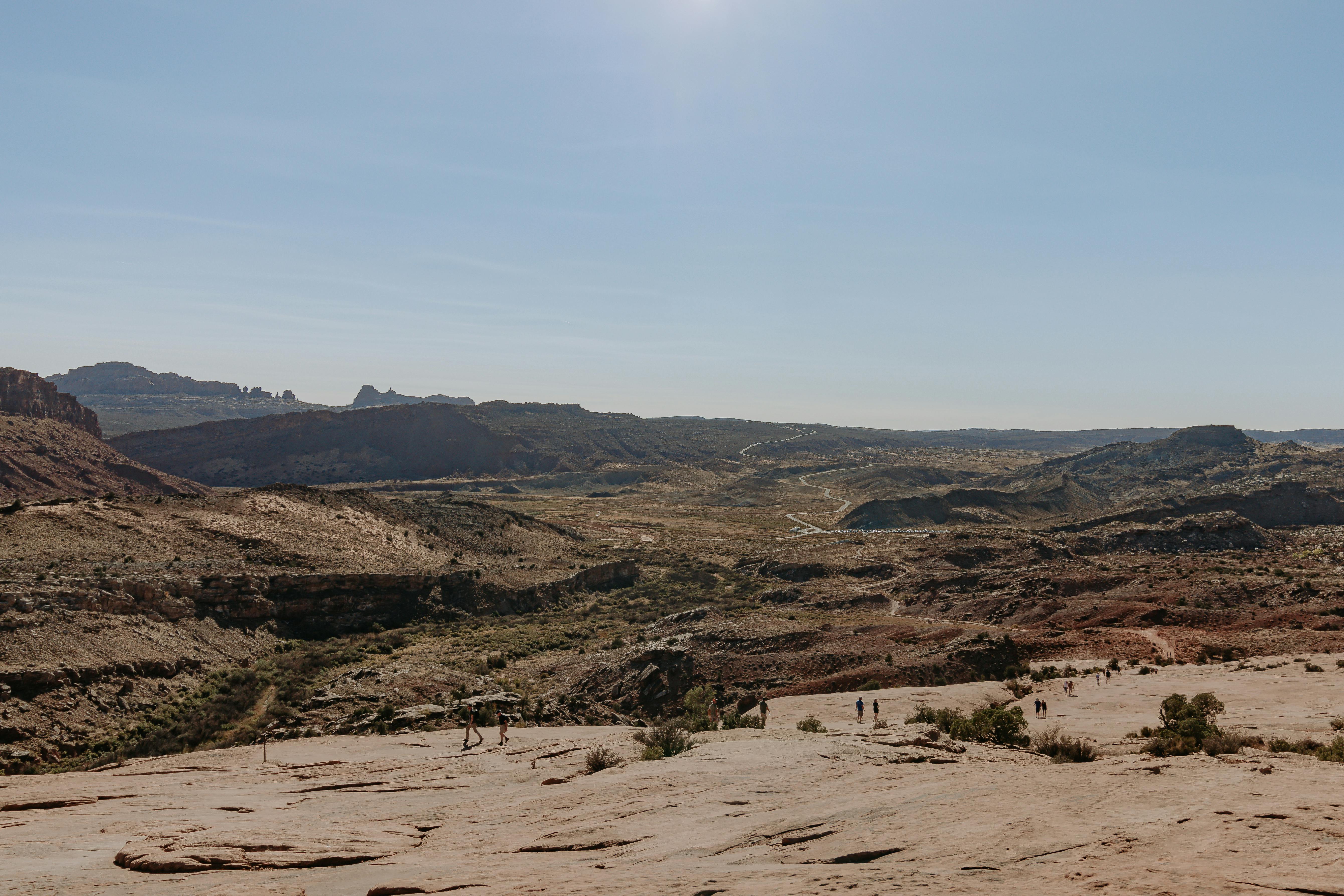 I'll never forget the energy of the hikers at the top of the hike at Delicate Arch. There was no line for pictures, so everyone would take turns snapping their photos, while the rest of the crowd cheered for each other as they struck a pose.

Tip: Before you leave Moab, stop by Gearheads to fill up on water, for free! They are the one-stop-shop for any last minute adventure needs, and have a spigot just outside so you can have fresh, potable water for the rest of your journey!
Canyonlands National Park
Núu-agha-tʉvʉ-pʉ̱ (Ute) Indigenous Lands
Since Canyonlands National Park's Island in the Sky district is only a hop and a skip (40 minutes) from Arches, I decided to stay another night in the camp spot I found in Moab. You'll start to realize this about me, but I am the earliest early bird you'll meet — especially when on adventures. It's like my body is buzzing so loudly with excitement, that I just can't wait for the sun to rise before I get moving. Waking up again with the stars and the moon, I set off for Canyonlands.
Tip: Research the areas you'd like to see and explore. Canyonlands is separated into three districts — you cannot hop from district to district within the part itself. Island in the Sky district is an out-and-back drive. I'll be putting the Needles district on my list for next time!
I worried about overcrowding at Mesa Arch for the sunrise, so I decided to keep that in my pocket for a future trip. The Island in the Sky district can be a perfect opportunity to just drive around and pull off at almost every turn to take in the incredible, vast views. I decided to break from my cruising to hike the Aztec Butte — highly recommend!
Tip: Have your hands ready for scrambling towards the top. As you ascend/descend the butte, there are a few spots where it's helpful to crab walk and have your hands for guidance. Being 4'11" myself, this was crucial.
Time: Around 2.2 miles total, this hike is feasible in just about 2 hours. It's also a great workout for your booty as you climb the butte!
Route: The sandy trail winds up to the butte, and then you begin the ascent. Make sure to look out for cairns that line the path! Once you reach the top, dip down to the left (carefully!), and you can find a bunch of hidden alcoves that look down into canyons. Plus they offer shade, so you can relax before heading back down.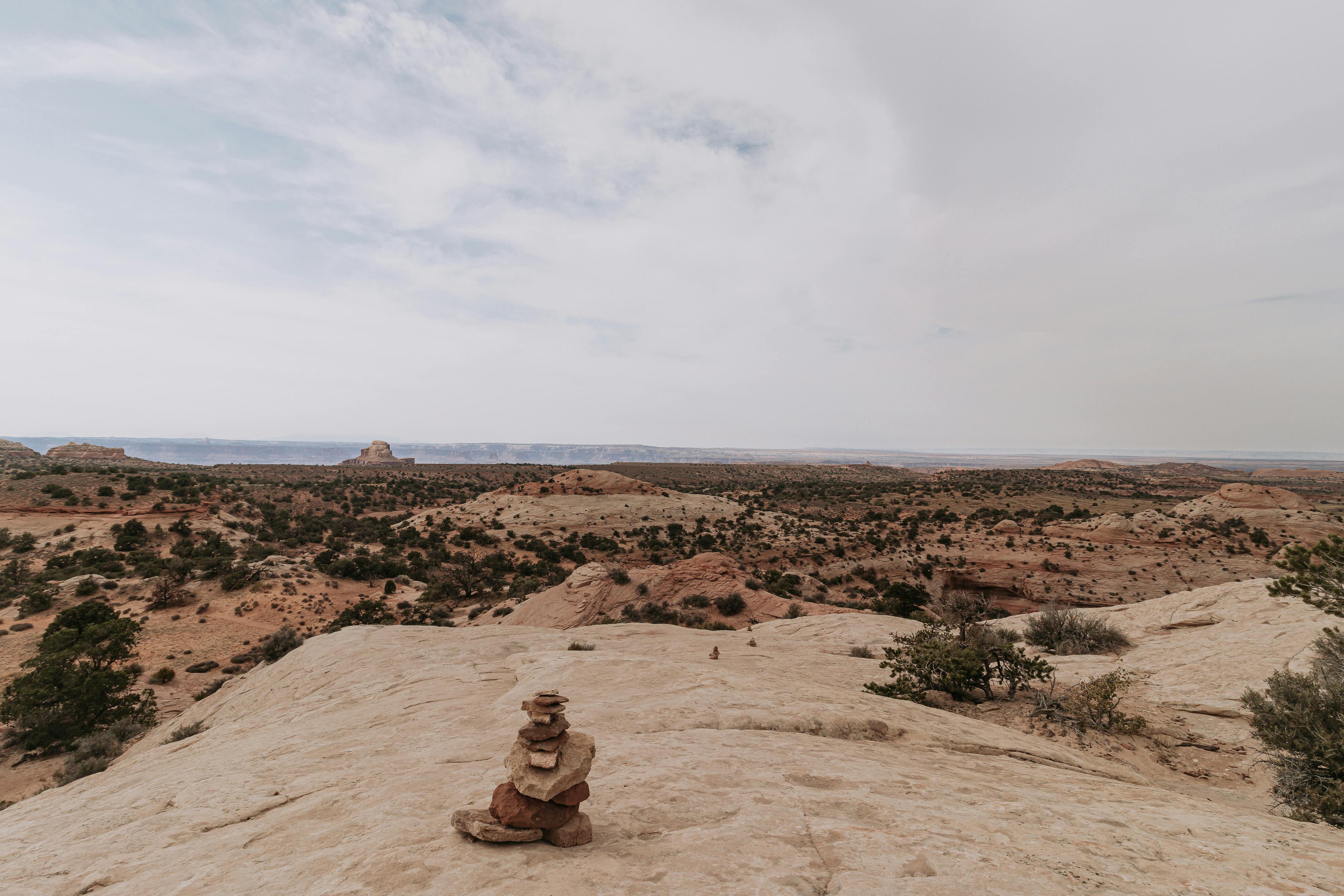 Following Aztec Butte, my next stop was watching the sunset overlooking Candlestick Tower. The trick here is to be flexible and explore the overlook area for the best spot — the mesa goes on for a while, so take your time to find a spot and settle in.

I was lucky enough to see the moon at its absolute fullest, rising into the night as I hopped in my Subie and made my way to the next destination: Capitol Reef.
Capitol Reef National Park
Núu-agha-tʉvʉ-pʉ̱ (Ute) and Southern Paiute Indigenous Lands
Waking up bright and early, I set out from my campsite to explore a little of Capitol Reef. I spoke with the rangers for their hiking recommendations, and unfortunately they let me know that the landmarks I was looking forward to exploring the most, The Temple of the Moon and the Temple of the Sun, were closed due to sandy, impassable roads. They did however provide some recommendation hikes to view the Temples from a distance, which was a great alternative plan! One thing this trip has taught me is to always be flexible with your plan — you never know what might change, and you never know what tangent adventure you can find yourself in.
Tip: I highly recommend having an SUV, 4x4, or AWD vehicle for Capitol Reef. There is a plethora of land to explore in the park that are easily accessible with these vehicles.
My morning started off with a quick hike at Hickman Bridge.
Tip: This is a pretty popular hike, so make sure to arrive a little early to avoid large crowds.
Time: This is a relaxing hike, perfect for a morning wake-up! The trail is about 2 miles out-and-back, and took about an hour, including photos.
Route: As you descend into the wash, be on the lookout for cairns to follow the trail. Cairns are rock formations used to blaze the trail. I recommend staying left on the trail as it lollipops — less crowds, beautiful views; doesn't get much better!
Note: This route is a perfect adventure for little ones! If you're looking for something with a little more oomph, I recommend Cassidy Arch (it's on my list for the next trip).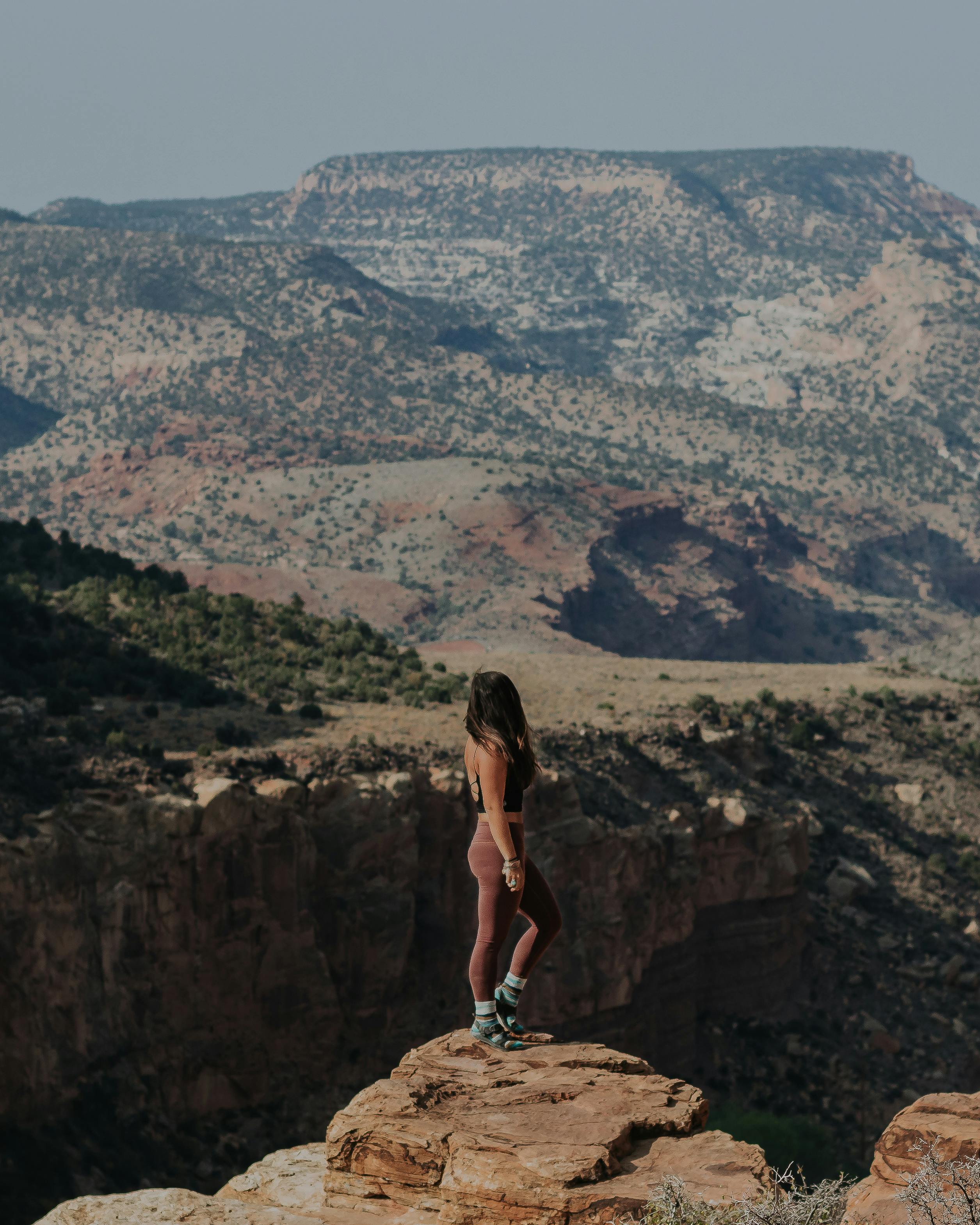 While on trail, I spoke with a couple that suggested I drive up the Burr Trail Switchbacks located on the 4x4 roads. Since I had no official plans other than setting up camp on BLM lands that evening, I added their recommendation to my itinerary and set off with the windows down, excited to see what the day had in store.

The couple's recommendation did not disappoint! I spent the entire afternoon cruising on dirt roads, with changing landscapes all around me. Desert rock formations, mountains, canyons — each mile greeted me with something different and new. After my frolicking, it was time to find my way to a campsite that would be about halfway to my next morning hike (at the recommendation of the rangers) to see the Temples.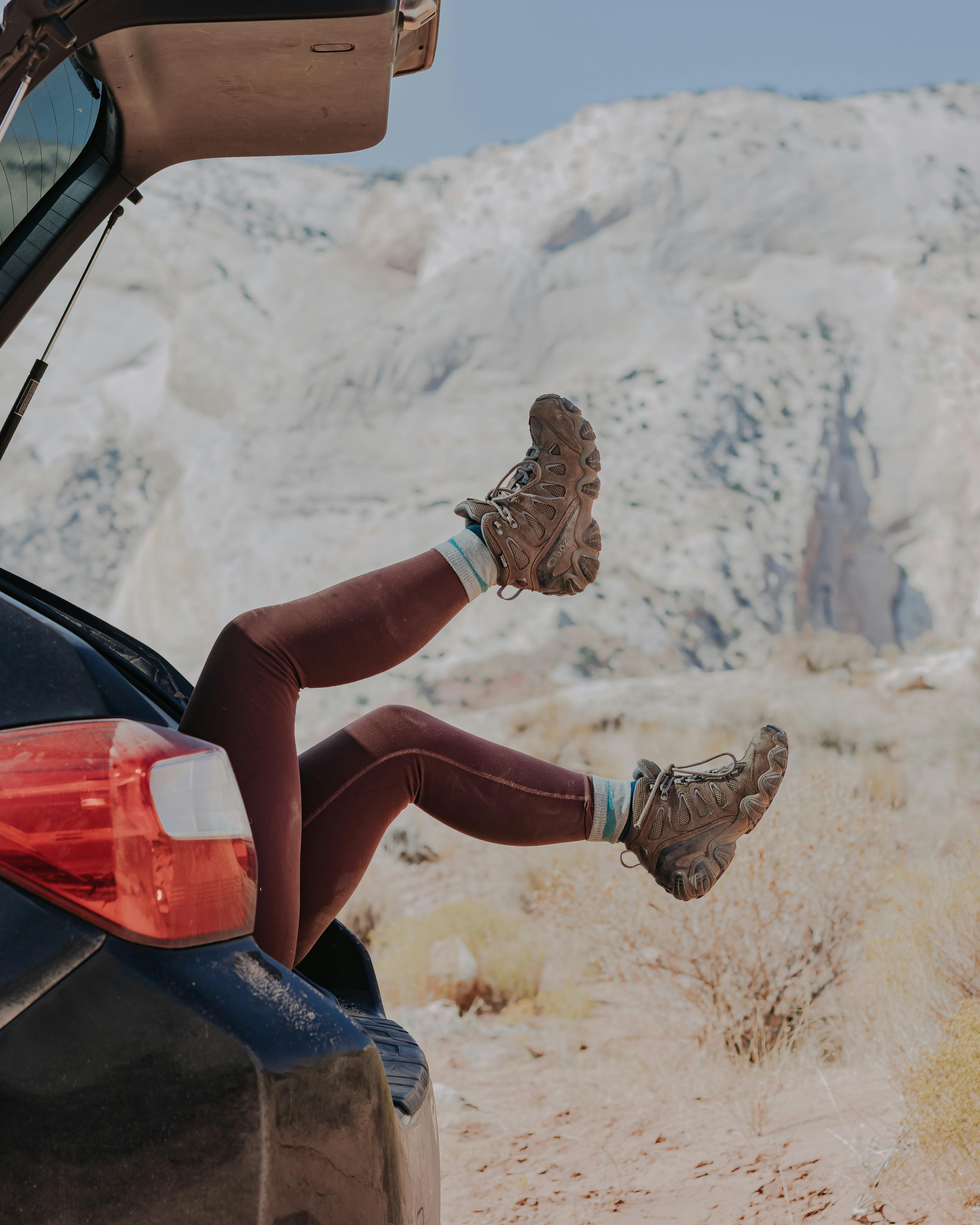 I have to say, this small series of events is most likely one of my favorite moments on my trip. My directions from the rangers led me into a BLM campground just outside Capitol Reef. I must have circled around at least four times trying to find the road that would take me further into the desert. I quickly realized that the "road" I needed to take involved crossing a small river — I kept thinking to myself, there's NO way that this is the way. I finally pulled up at the drop off and noticed a truck on the other side of the river bank, and found the continuing road. It was time to make a decision — either give it a full send or pull back and reroute my plans for the next day.

Well, if you know me, I am 100% a full send type of chica. So I decided to jump out and see just how deep the water was, making sure my lil' Subie could wade across without issue. I must've looked ridiculous wading in what ended up being ankle deep water — but soon enough, my Subie and I rolled across the "river", revved up the river bank and went on our way. I was met with bright crimson red rocks mixed with white sand that went on for miles. I then spent the evening watching the brightest sunset I've ever seen with the desert all to myself — it was truly beyond magical!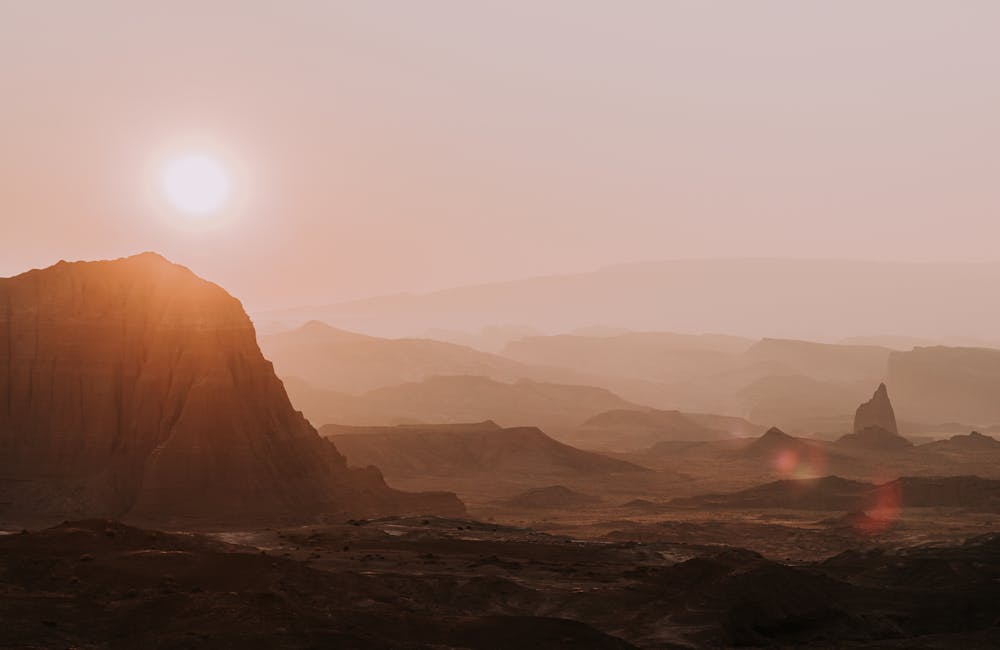 Time: Running through a wash up to the saddle between mountains, this approximately 2 mile hike can be completed in 1-1.5 hours.
Route: Follow the foot paths, using cairns as guidance. Make sure to stay in the wash, as not to disturb cryptobiotic soil!
There was something special about this hike and area — with no one else around, the stillness of the desert felt almost enchanted. My next goal for the day was to get as far as I could to the Temple of the Sun and Moon. If you're unable to see the Temples, my best recommendation is to still travel to Cathedral Valley to take in the monoliths that will truly stop you in your tracks. The best trail to do this: Cathedrals Trail.
Tip: Bring heaps of water if hiking during the day. There are small juniper trees that line the trail, but you are in direct sunlight for the majority of the trial.
Time: Cathedral Trail is about 2.5 miles in length, and takes up to 2 hours to complete. I stopped just about every 100 feet or so, taking in the Cathedrals and snapping photos.
Route: After ascending pretty steeply, the remainder of the trail is a nice, rolling ridge line. Continue down this out-and-back trail to see Cathedral Valley in all its full glory!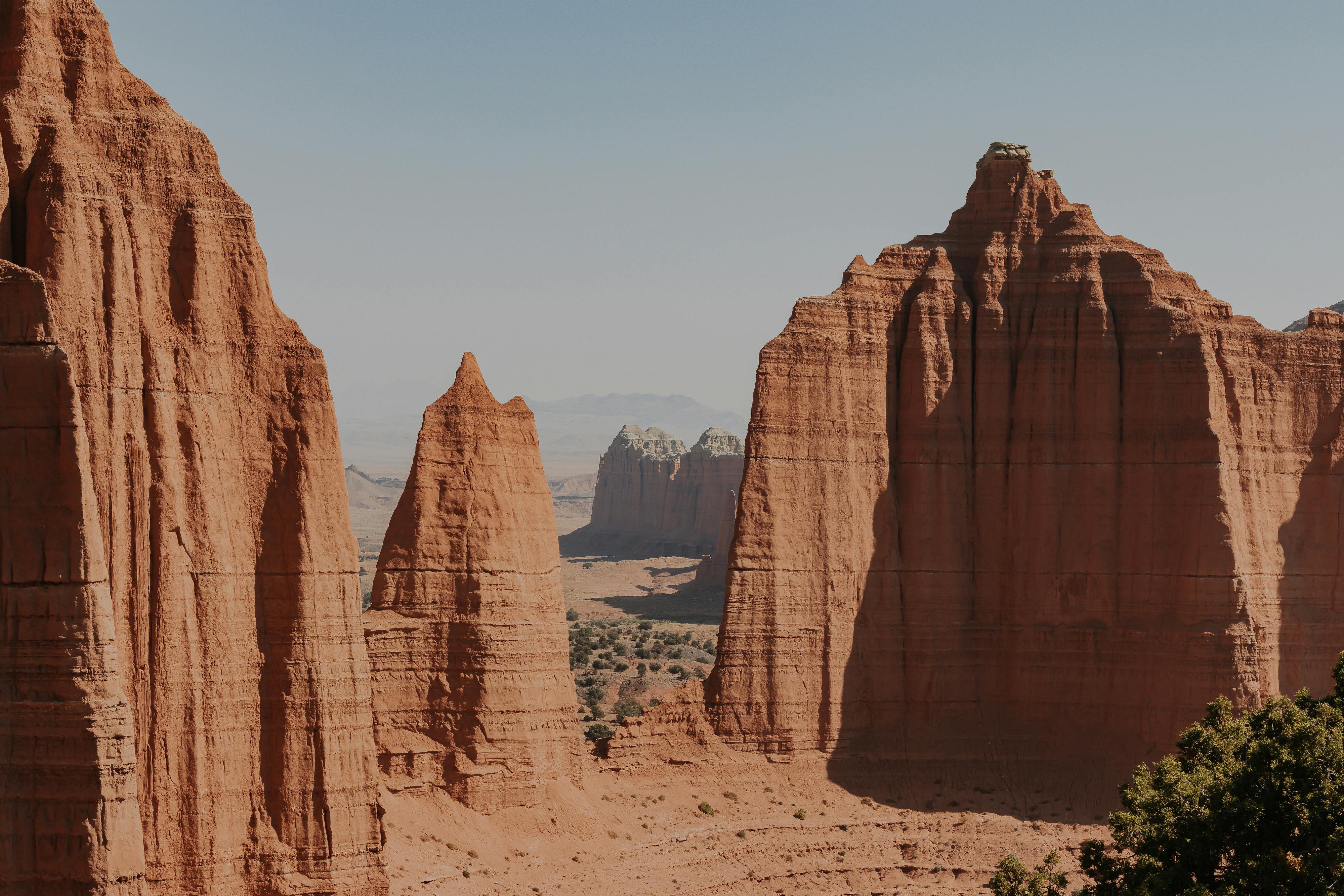 I will definitely be back to Capitol Reef to explore more — this park has easily become a top favorite! After exploring Cathedral Valley all morning, it was time to boogie down south to meet up with a friend and explore the last two parks in the Mighty Five: Zion and Bryce.
Zion National Park
Southern Paiute and Pueblos Indigenous Lands
I'll preface here that my adventure in Zion was atypical from the normal exploration of the park. Zion is widely known for hikes such as Angels Landing, The Narrows, and many others located through the South Entrance. Due to COVID-19, I decided to forego this more popular area to minimize interaction with others. My friend Stephen had been on a solo road trip himself, and our paths lined up just in time to explore Zion — we opted for the Kolob Canyon Wilderness.
Please note: if hiking in the Kolob Canyon Wilderness, there are no pets permitted and groups are limited to a maximum of 12 individuals to protect areas.

While we had a bit of a late start, we arrived at the trailhead just around 11AM, packed our bags and headed out on trail with the Kolob Arch as our final destination for the day.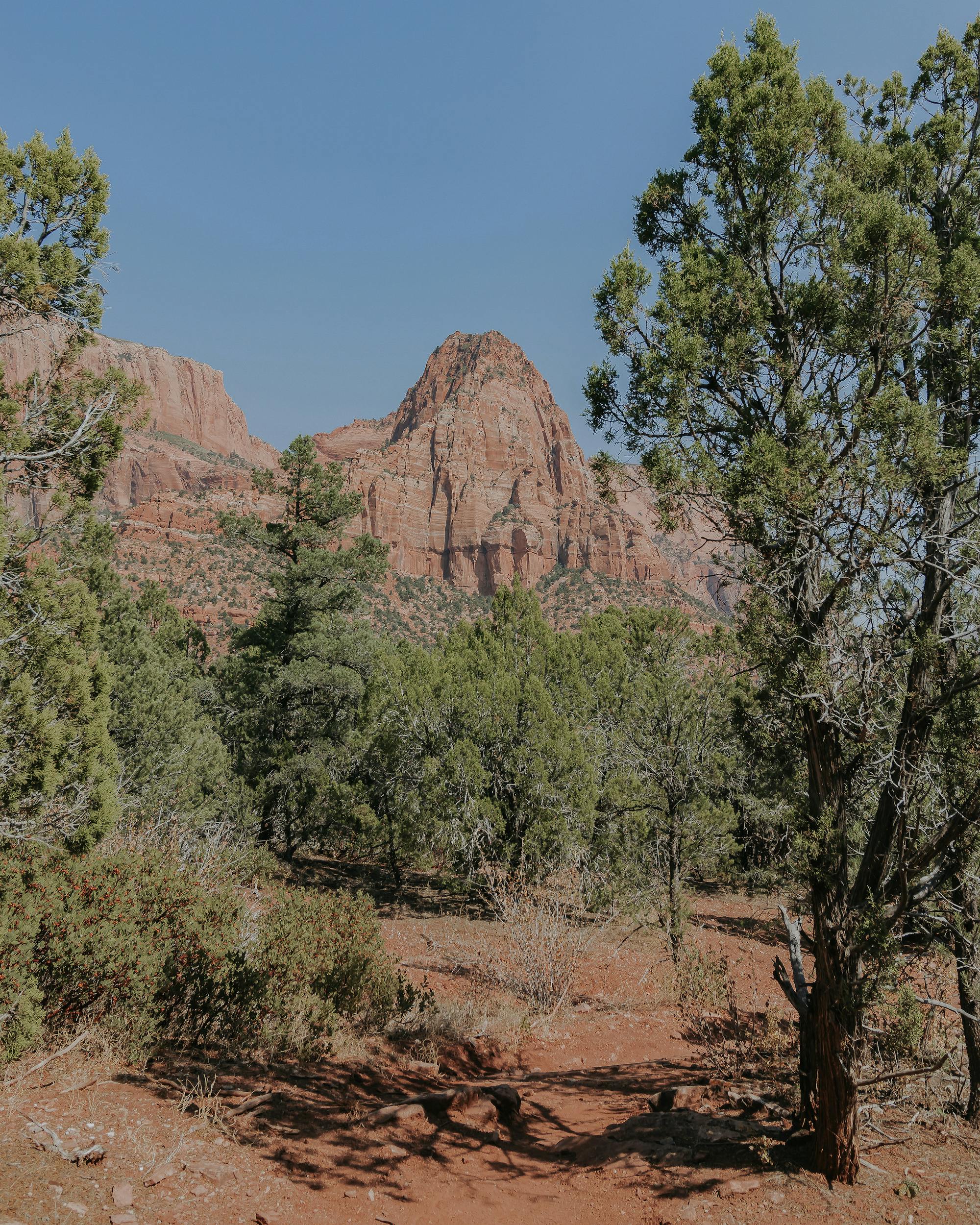 Tip: Arriving at 11AM made this hike pretty strenuous. Hiking in the heat of the day was no joke! I definitely recommend getting there as early as possible to stay shaded and cool.
Tip: Most people will do this hike as an overnight. Consider this, unless you have all day to hike! It's a beautiful, less-travelled area — perfect for a few nights backpacking trip.
Time: I will argue this point forever — NPS states this out-and-back trail is 14 miles total. At the end of our hike, I clocked just over 20 miles. This includes the spur trail up to view the Kolob Arch. If you hike this trail, please let me know your mileage! Starting around 11AM, we made it back to the vehicle at 8PM, making it about 9 hours hiking (including multiple water and snack breaks).
This hike pushed my limits — I definitely cried as I was able to see the car at the end of our hike that evening. But it was one of the most beautiful environments to be in, and we only encountered fellow hikers occasionally on trail (and a few horseback riders!). Either way, a celebratory pizza and drink was necessary to celebrate our very, very long day of hiking.
Bryce Canyon National Park
Núu-agha-tʉvʉ-pʉ̱ (Ute), Southern Paiute, and Pueblos Indigenous Lands
I approached Bryce Canyon two different ways. Having my friend Stephen in town, we decided to drive throughout the park and stop at every overlook to take in the sights the day before we headed out to Zion to hike to Kolob Arch. It was such a relaxing and fun time pulling off every couple hundred feet to see the mammoth rock formations that make up Bryce Canyon. The colors alone are enough to stop you in your tracks. A mix between punching bright oranges, reds and whites make up the majority of the landscape throughout the area. Truth be told, it was also wonderful to have a semi-zero day since I had been running at 100% the entire trip up until that point. Huge kudos to Stephen for helping me slow down!
Following our hike in Zion, Stephen and I parted ways — him heading over to Arches National Park, and me on my way back to Bryce before heading into Arizona. Seeing as I was hiking on a gorgeous Saturday morning, I decided not to do the entire Figure 8 Loop (Queen's Garden, Peekaboo Loop, and Navajo Loop) due to large crowds. Instead, I opted for the Navajo Loop.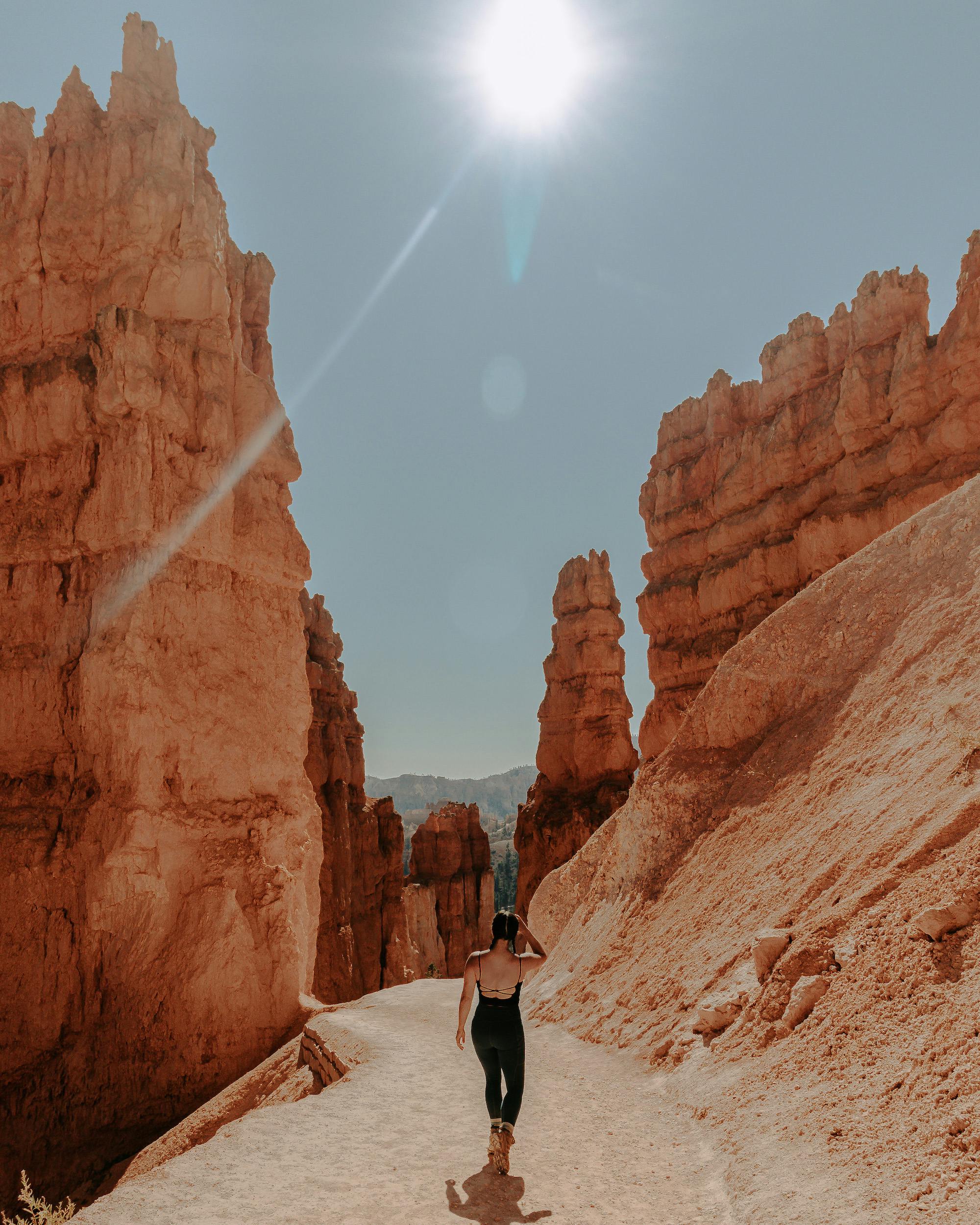 Tip: As always, the earlier you arrive, the better. Remember to bring a jacket if you get there early — it's fairly shaded and can be a little chilly when you start any of the hikes.
Time: This hike is a short 1.3 miles. Including pictures, it took about an hour to complete.
Route: It's recommended for hikers to go clockwise for the larger loops, however I decided to go counter clockwise for this shorter hike.
Major landmarks: Wall Street, Thors Hammer, Two Bridges
Waving goodbye to Utah's Mighty Five and Utah itself, I packed up my little house on wheels and continued onward to my next destination. Utah is definitely a place I'd like to visit time and time again. I feel like I simply couldn't see or explore everything I wanted and planned to. But that's one of the reasons I love to go on adventures — every trip leaves you wanting just a little bit more, helping you plan the next trip because the adventure is never really over, now is it?