The sole that keeps you grounded
It is down jacket weather. There's a chill in the air. The crisp leaves have fallen. Frost creeps into the environment and the hours of daylight dwindle. There is a deeper yearning for hot cocoa and warm cups of tea by the fireside. Old Man Winter, my friends, is here. As beautiful as it is, it can be brutally cold—especially on the digits. Here's a look into insulation for your feet—the sole that keeps you grounded.
Insulated boots are ideal for cold environments and temperatures during work, play, and time spent outside. Thanks to advancements in gear, fabrics, and technology, we can now go outside and enjoy the winter season much more comfortably. As Sir Ranulph Fiennes stated, "There's no such thing as bad weather. Only inappropriate clothing."
Insulation acts like a thermos: if what you are putting into that thermos is cold, it will remain fairly cold. If warmth is placed into the thermos, it will assist in maintaining that warmth. Often in winter conditions, there will be rain, snow, and/or ice—therefore, it is important to obtain winter footwear that is not only insulated, but additionally waterproof. Gore-Tex is by far the most popular waterproofing material, but it is crucial to obtain both a waterproof and insulated winter boot.
In the market for footwear, you will most likely discover the two most common forms of insulation—Shearling and Thinsulate.
Shearling is fleece that is comfortable, soft, and wool-like. Note that the quality of shearling can vary. Surprisingly, shearling works well with bare feet and can be more of a stylish winter insulation than a practical one. The downsides to shearling are that it can break down over time, it can be hard to clean, and may wear unevenly. Shearling isn't typically put into a super active or technical boot.
Thinsulate is a synthetic microfiber insulation made by 3M. This is the most popular choice for boot insulation. It is extremely durable, thin, and rugged, and wetness doesn't damage it. Thinsulate is measured by the weight of the fabric in grams per square meter. This ranges from 100 grams to 1000 grams, 1000 grams typically being the warmest.
There is a plethora of insulated boot styles and purposes to choose from—hiking, fishing, hunting, work boots, ski boots, snowboard boots, expedition/mountaineering boots, fashion boots, ice-climbing boots, and more.
For a mountaineering boot, you will find single boots, double boots, plastic, synthetic, leather and a range from 200 grams all the way up to 2,000 gram capabilities—to endure horrendous weather and high alpine environments. These will all be insulated. Other considerations for mountaineering boots are the stiffness of the boot, weight and size, liner construction, type of lacing system, durability, waterproofing, crampon compatibility, traction, and the elevation/temperature where you intend to use them. Typically, these boots will weigh anywhere from two to six pounds.
For a winter hiking boot, the boot height, type of waterproofing, type of insulation fabric, breathability, and other features will often be listed listed. Additional items to look for are overall boot stiffness, the cuffs, lugs on the sole for traction, a reinforced toe cap, gaiter rings, and if it has an enclosed tongue (gusseted tongue). Insulated winter hiking boots should all be compatible with snowshoes and micro-spikes, but only certain hiking boots will be compatible with crampons. Specialized designs such as Oboz Insulated boots host a unique thermal insole with an insulated top sheet and a mylar bottom sheet to reflect heat back to your foot. In the photo below, I have the extremely comfortable and warm Women's Sapphire 8" Insulated Waterproof boot. A similar boot is the Sawtooth II 8" Insulated B-Dry boot, as featured in Outside Magazine's Winter Buyers' Guide.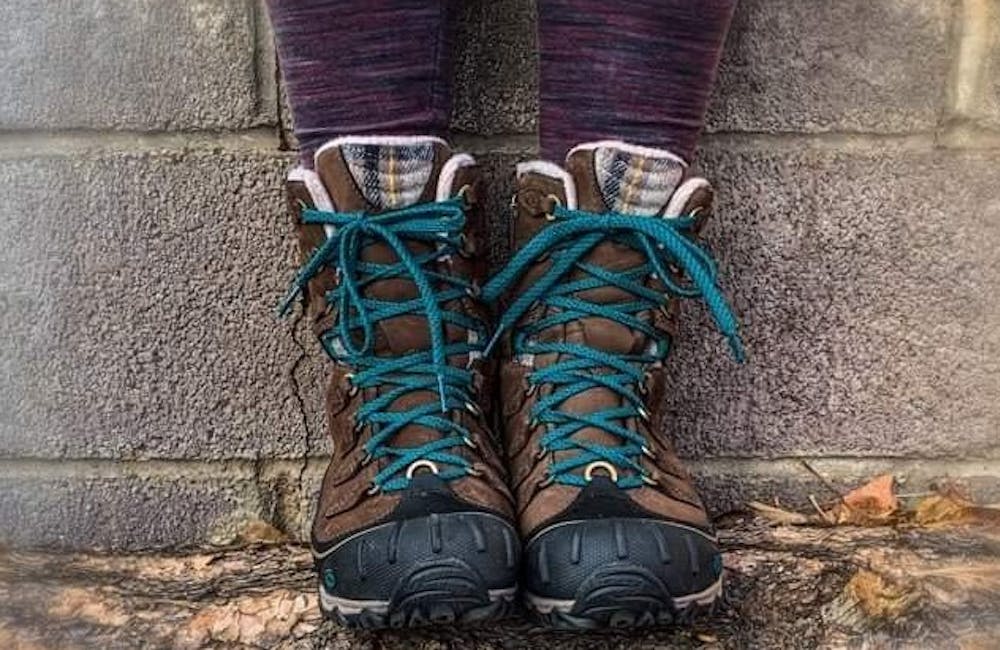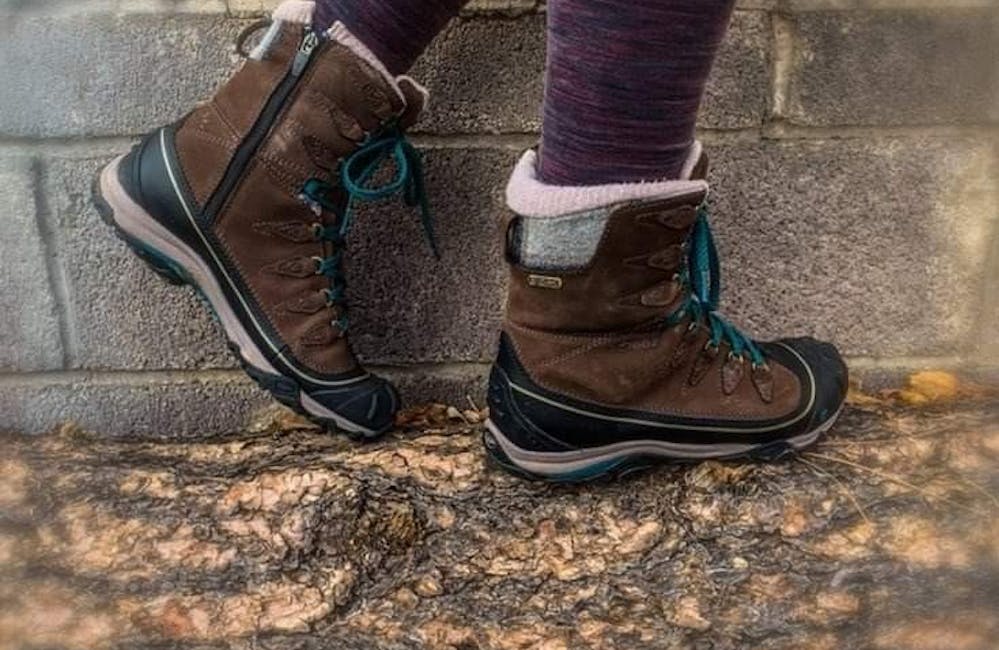 Other things to keep in mind:
Make sure your socks are quality and are warm. No flimsy cotton socks.
Gaiters can be a great asset to help keep snow and moisture from entering the boot.
Always keep your feet dry. Breathability in a boot is important for this.
Are these boots super heavy and bulky? Comfort is key.
Toe warmers or heated socks are great…yes, there are heated socks made.
Always go higher than what the temperature rating of the boot states. For an example, if it states 10F you will want to be in no colder temperature than 20F for comfort.
Warranties on the product.
Can these boots be re-soled in the future?
Are the laces and inner liners (if applicable) easily replaceable?
Does the boot support a good cause?
And lastly, are these boots made for walking—or are they going to walk all over you?