HIKING IS FOR EVERYBODY: Tips for getting started and being prepared
Search "How hiking changed my life" on the internet, and you'll find countless people sharing what impact hiking has had on their lives. From the physical benefits of getting your heart pumping, reducing your risk of heart disease, and managing weight to the psychological benefits of relaxation, lowered stress, and more energy. 
But for beginners, getting started can feel like an uphill battle (no pun intended).
Because knowledge is power, we want to help break down barriers and empower you to confidently get outside and start reaping the benefits that come with hiking. Keep reading to learn our top tips for getting started, how to plan for preparedness, an important reminder about what hiking is all about, and a limited-time challenge for getting started. 
TOP TIPS FOR YOUR FIRST HIKE
Whether it's heading out on a paved trail at your local nature center, a well-traveled hike at a National Park, or a more strenuous mountain summit trail—planning should always come first. Some tips to help you get started:
Find a well-fitting pair of hiking shoes: Investing in a good pair of hiking shoes is essential. Look for shoes that are comfortable, provide support, and have good traction when out on the trail. And if you need some guidance on what makes a good fit, we share a bit about this here.
Look for a trail that gets you excited. If you aren't sure where to find trails near you, AllTrails is an excellent resource for finding local trails that fit your nature—whether you're pushing a stroller or pushing your limits. You can use their website or app to filter by distance, difficulty, and other factors to find a trail that will inspire you to get outside.
Grab a hiking buddy! Hiking with a friend can make your experience even more enjoyable. By sharing a hike with a friend, you can feel more confident hitting the trail and will have an incredible experience to look back on together. If you're looking for a hiking buddy, try reaching out to local hiking groups or using apps like Meetup to find hiking partners. 
PLANNING FOR PREPAREDNESS 
Hiking is meant to be a fun and rewarding way to get outside and connect with nature. It's equally as important to be prepared. Here's what to consider for basic hiking preparedness:
Select a trail that fits your experience level. There's absolutely nothing wrong with finding a minimal-elevation gain, well-marked trail, that's easy to follow when heading out on your first hike and then working up to more difficult trails that require gaining more elevation or route-reading skills later on.
Share your hiking route with a friend. Before you hit the trail, let someone know where you're going and when you expect to return. This way someone will know to look for you if you aren't back on time.
Familiarize yourself with Leave No Trace (LNT): a set of outdoor ethics that promotes responsible outdoor recreation. It's important to leave nature as you found it and minimize your impact on your environment. 
AND FINALLY, A REMINDER OF WHY WE HIKE
Hiking isn't about being the fastest, the most skilled, or clocking the most miles. It's about getting outside, enjoying nature, and most importantly—having fun. Anyone, in anybody can enjoy hiking and soak up the benefits that come along with it. 
JOIN THE OBOZ FAST TRAIL CHALLENGE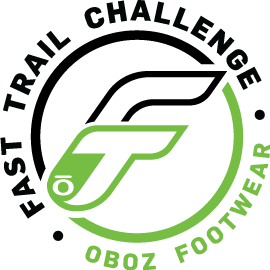 If you're looking for some additional motivation to get started—join our Fast Trail Challenge. 
During the Challenge, hike as many trails as you can in TEN days, 5/1 - 5/10. The more you hike, the more chances you have to win prizes from Oboz and other outdoor companies.
The Oboz Fast Trail Challenge is not about how far or fast you can go; it's about how often. Just choose any trail one mile or longer, record it on your tracking device, and you'll be entered to win. Even better—for every hike you complete during the Challenge, Oboz will plant one tree. If you complete a bonus trail, Oboz will plant two trees.
So, find a trail, grab your hiking shoes (and maybe a friend), and get ready to hit the trail!