2020
It might just be the one thing that EVERYONE can agree on this year: 2020 sucked. There's no need to review; if we weren't all in the same boat, we were at least in the same storm. Perhaps a good thing about times like these is that they tend to make us realize how lucky we really are, in one way or another. With that, here are some things I am thankful for this year, Adventure Travel Guide Edition.
Winter
First of all, I am bigly thankful that I had made the most of pre-Covid 2020. My January, February and March were full of both guiding and personal trips in Utah and Grand Canyon. I crossed off several bucket-list trips without knowing just how glad I would be that I did. I was at Grand Canyon the night they closed all hotels and restaurants, and I knew it would be a long time before I'd lay eyes on those rocks again. That being said, I was thankful that Grand Canyon had that time to recover and regenerate. The complete absence of tourists has been a healing period for the flora and fauna along the Corridor trails, and a rare opportunity for the residents of Grand Canyon Village to enjoy the peace of the inner canyon on the rim.
Spring
As an adventure travel guide, I had a lot of…free time this year. Guides around the world lost our jobs as trips cancelled and outfitters went out of business. Luckily, I had just bought a new bike last year and spent the first weeks of quarantine pedaling off my anxiety in my own home, Sedona, Arizona. For three weeks, major trailheads were closed and people were actually staying home and the locals got to reclaim the nearly empty trails. I was also able to explore some seldom seen sites in the remote backcountry and catch up on long overdue play time with my dogs, who miss their daddy when he's guiding all the time!
Summer
As the 'Rona put on more pressure, it seemed as though the travel industry might never recover and social upheaval seemed imminent. Naturally, I was surprised to see that the summer guiding season in the mountains up north looked to be getting ready to kick-off. Many travelers were eager to get out of the house after months of quarantine and angst, and the northern Rocky Mountain states were still relatively Covid-free. I was immensely thankful for being able to return to full-time guiding for Wildland Llamas and work two months of llama treks in Yellowstone and the wildernesses surrounding Jackson, Wyoming. After thinking that I was never going to guide again, it was greatly rewarding to see that with some major adjustments and minor sacrifices, and the hard work, patience, and dedication of awesome people (and llamas), backcountry trips can run safely in the times of Covid.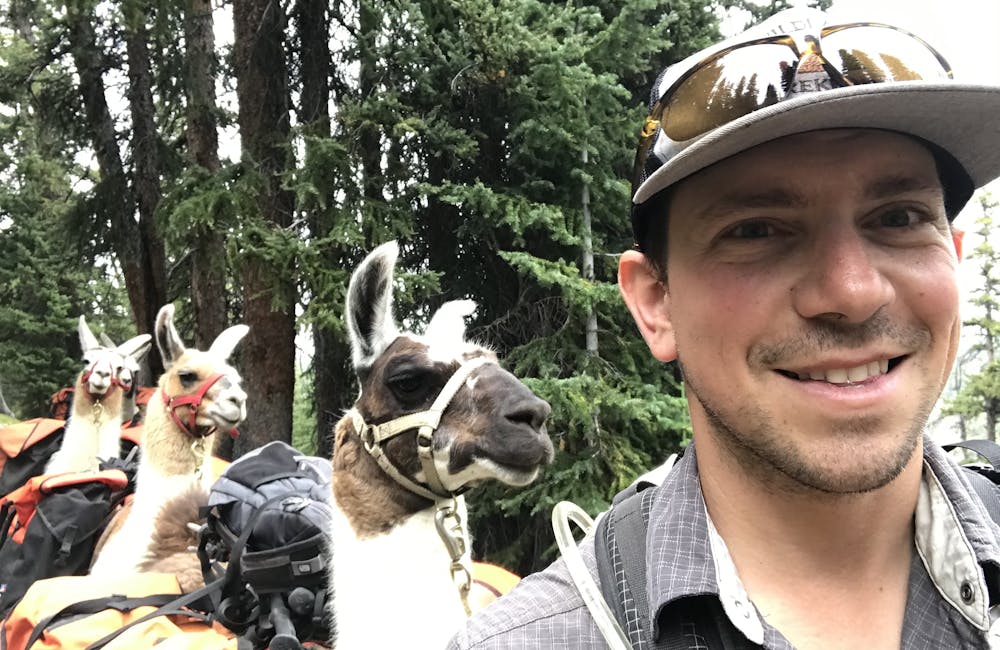 Fall
As the "second-wave" ravaged the US and election anxiety was reaching fever pitch, I decided to risk the trip and spend a month with my parents back East in Pennsylvania. After a long drive, a long quarantine, and long Q-tip jammed into my brain, I spent a month savoring the company of my parents. My mother, diagnosed with ovarian cancer earlier this year but unable to begin treatment until after the first wave of Covid (classic 2020), was recovering from major abdominal tumor resection and resuming intense chemotherapy. My dad has been working from home since March and I was able to put my guide skills to use by helping with cooking and going on lots of walks with both of them every day, a lucky circumstance that would not have happened if not for Covid. I am deeply, deeply thankful for the opportunity to enjoy my parents for a whole month and the memories from that visit are forever sacred and priceless.
Back in Arizona
Now I am back in Arizona, baking lots of banana bread, and have been lucky enough to guide a couple of trips in the center of my universe, Grand Canyon. Here in Sedona, the sun is shining, the shelves have toilet paper, and my dogs are enjoying the cool air of winter. Cautiously optimistic about the future of the world, I look ahead to the end of this impactful year and the transition to 2021. The winter holidays are a time for reflection and family, wishes and gifts. My wish list for this year and for 2021 is all for the human race, and my gift to the world is to try and embody these wishes in 2021 and beyond.

Be kind
Be considerate
Be compassionate
Be tolerant
Be flexible
Be helpful
Be open-minded
Embrace science
Embrace diversity
Know that we are all in this together, whether we like it or not
Unplug
Go on lots of walks
Call Mom
Read books
Give belly rubs
Love your Mother Earth
Don't throw out brown bananas