I was there when the creek fire in Yosemite started. I was there when billows of smoke came up over the Mono Pass ridge and into the cirque where Upper Sardine Lake lie in Bloody Canyon in Inyo National Forest.
Per ush, I was on a mission to take yet another solo backpacking trip. This time it would be in the beginning days of California's heatwave. My loved ones were unusually worried, but my naivety overcame my logic: At least I wouldn't have to deal with 120-degree weather 11,000 ft. above sea level. I'd be high up in the mountains, relaxing in my personal oasis with an alpine lake as a backdrop. The gurgling water would make me chuckle at their waxing poetic about how I wouldn't be safe. 
Getting out in the backcountry means I get to utilize my gear, re-acquaint myself with all the shit I had bought on impulse, and then pat myself on the back for a job well done. I'm pretty much loving my Mountain Summit Gear Northwood Series II 1-Person Backpacking Tent. It's about three pounds and if you've ever crossed a five-mile threshold with a backpack strapped to your back, you know how meaningful the words three-pound tentare. My newest prized possession is my Oboz Bridger Mid BDry Hiking Boots.Obviously, I got them in red because I'm a badass. They don't lie when they say they're trail-ready out of the box—break-in time was not necessary with this boot, which is usually never the norm. The material on the lip of the boot takes me back to my theatre days as a star-eyed young woman in Chicago—they're elegant. Plus, they're the lightest hiking boots I've had to-date, which comes into play at a later point in this story.
As I watch Angeles National Forest burn from my home in Pasadena, I remember the night I spent in Bloody Canyon; the night when the infamous Creek Fire started. It was around 4:00 pm when I got to Upper Sardine Lake, where I'd be camping overnight. A few day hikers were soaking up the views of Walker Lake before they headed back to the trailhead. I set up my tent, took in the views, and took my routine hour-long nap. When I woke up, the first thing that hit me when I unzipped my tent was the smoke smell. When I looked up to the sky, the sun was clouded by thick smoke turning the sky into an orangish tint—the same orange sky the news channels would show across the country. Naturally, I decided to take a ton of photos to take my mind off the anxiety. One of the first things you learn in wilderness survival is to: STAY. CALM.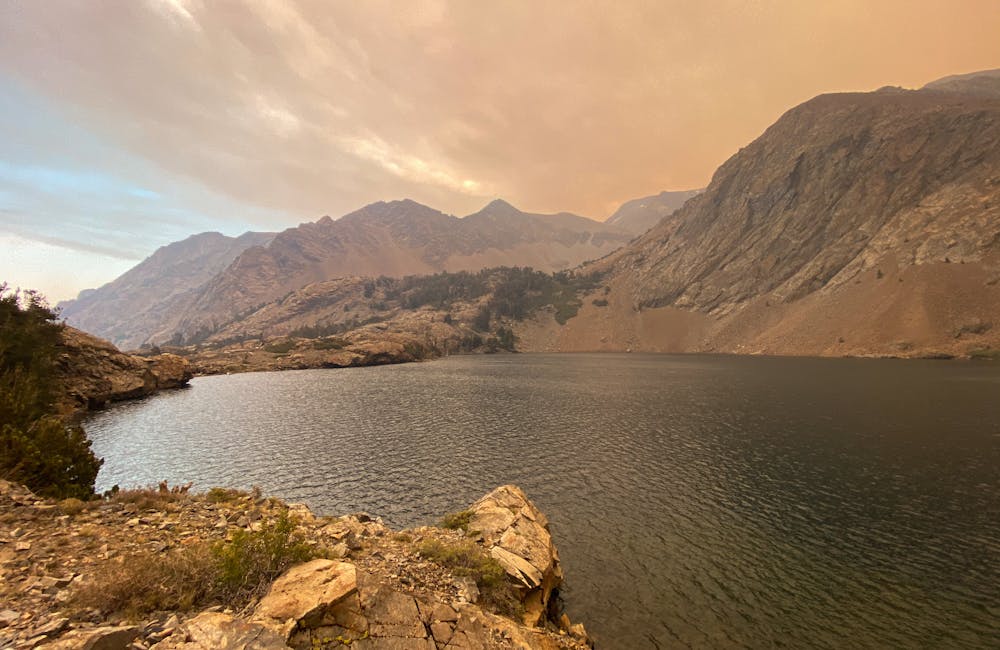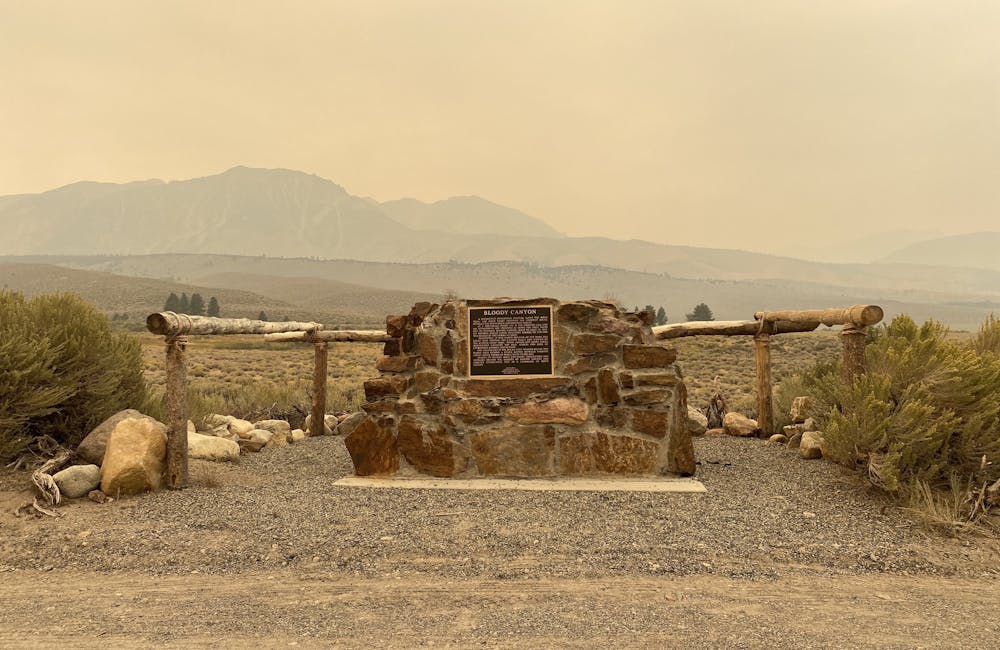 As I captured some of the most beautiful pictures I had ever taken outdoors, I calmly thought through the different scenarios I would face if the fire were to come over and enter into the cirque:
1.     Your boots are light; take your pack, leave the tent, and run like hell.
 Which then led to some variation of the thought above…
2.     Your boots are light; quickly breakdown the tent, put it in your pack, and run like hell.
3.     Your boots are light; take your hydration pack and run like hell.
4.     Your boots are light; RUN LIKE HELL.
5.     Fuck the boots; jump into the lake, go underwater, and come up for air when you need to.
6.     You're fine. You'll stay overnight, the fire is far away, and the helicopters will come and put it out wherever it is. 
But the helicopters never came. And around midnight, my heart racing with the alertness of a deer waiting for its death… I had to pee. Like clockwork, I unzipped the door and put my boots on, but this time I had one thought running through my mind: Please, don't let there be smoke. Please don't let there be smoke. When I opened the door, one of life's great lessons hit me for the 750th time: just because you want things to be a certain way doesn't mean they will be. 
Now the whole amphitheater shaped space that made up Upper Sardine Lake was filled with thick white smoke. I could barely see anything. It was like some scary movie or at the very least Halloween Horror Nights at Universal. The smell of smoke was more potent than it had been earlier that evening too. But there were no orange flames. No signs of fire nearby. There was just smoke. Later I would learn that the fire was near Shaver Lake in Yosemite, about a four-and-a-half-hour drive away from where I had been. Billows of smoke in the sky must give the illusion of dread so people can act quickly. I had not gotten the memo. 
Here's the deal; this experience has less to do with my actual traversing the land in great boots, even though they're the highest-ranking hiking boot on the market right now in my opinion. This story is more about me realizing that taking this trip when I probably shouldn't have, caused unnecessary endangerment when I could have prevented it. In short, because I went to Inyo Forest to have an adventure during the same time the Creek Fire in Yosemite would start and during the same time the West Coast would have a heatwave, is the reason I had my first near-death experience.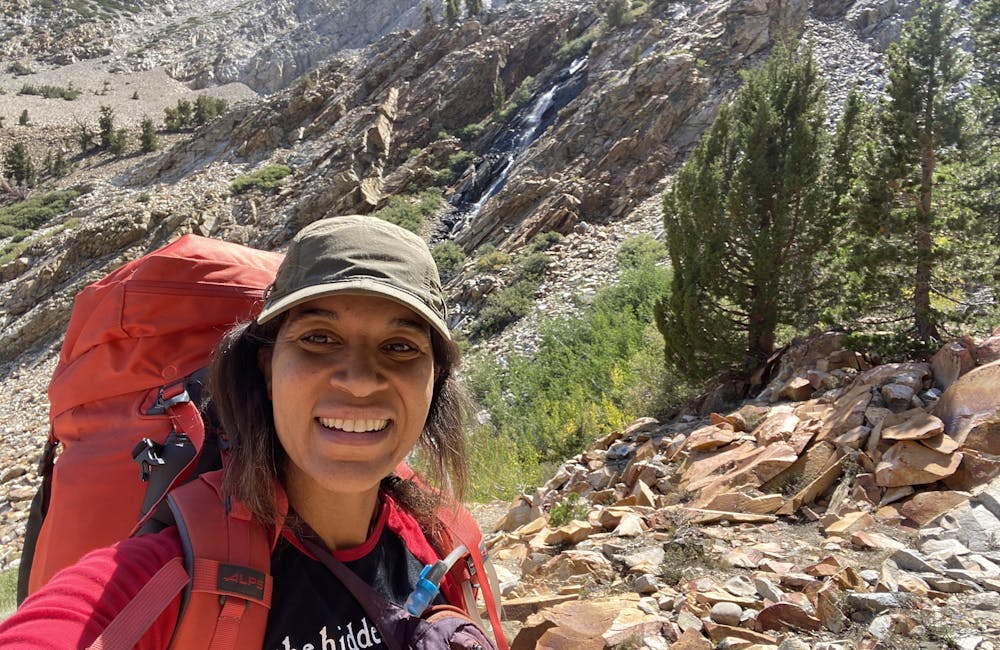 Although I kept a phenomenally cool head, I learned a few things:
Don't ever go hiking when your city is experiencing a heatwave. You have no idea what can happen. You need to treat it as you would any other natural disaster because that's exactly what it is—a natural disaster. The consequences of a heatwave can quickly turn into wildfires popping up everywhere like we saw throughout the West Coast within the last month. My advice is to stay home during these kinds of extreme weather events. 
If people are saying they're worried, maybe listen to them. You don't have to be so in fear of the I told you so's if you come back home. In severe cases like this, you'd be hard-pressed to get a smart-ass response from anyone who loves you. 
Just because you spend a few weeks prepping for a trip, doesn't mean you can't push it out to a later date. Sure, that time spent on planning for your trip feels like a waste but then again, you can look at it as more prep time. Things happen—don't be afraid to say, "I can't do it right now." It's better to be in a safe environment than a sketchy one.
Just because you're 100% living for your hiking boots or any other outdoor gear that may make you feel like a badass, doesn't actually mean you're a badass. You're human, boots and gear don't always save your life and if you need further explanation, go back to number one of this section.
When you're stuck in situations that feel like dodged bullets, afterwards you remember a few key factors. For me, it was my calm head; my critical thinking skills; my need to assess the situation continuously despite my fear; and my laser-focused thought that maybe, just maybe, my hiking boots could actually save my life.