When it comes to city living, not having access to a trailhead right in your backyard can make it feel like you're out of luck when it comes to escaping the city and getting out on the trail.
But natural beauty may be a lot closer than you think. With nature centers, river walks, preserves, and so much more—there are endless opportunities to find your own personal escape close to the city. 
Thanks to our friends at AllTrails, we're sharing a curated list of Top 20 Urban Trails that take you from hanging out at home—daydreaming about getting outside—to lacing up your hiking shoes and on the trail in no time. 
And if any of these trails spark your interest to get outside, join our Fast Trail Challenge going on from 5/1 to 5/10. During the Challenge, hike each day at least one mile for TEN days and for each trail you complete, you'll be entered to win prizes from Oboz and other outdoor companies. 
Read on for a list of popular hiking trails right outside some of the most popular cities in the U.S.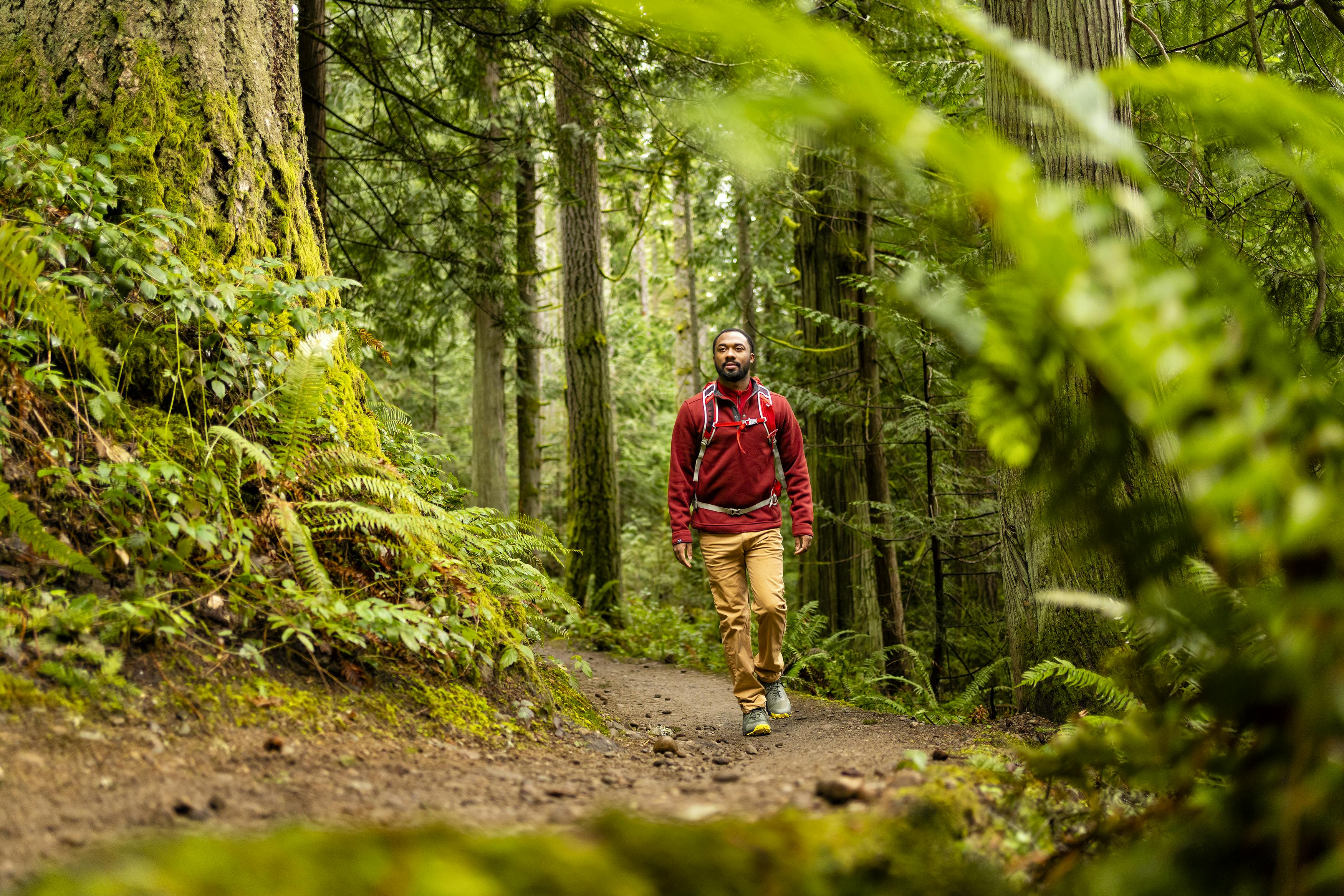 Wild Cherry, Wildwood, Alder, Dogwood Loop - Forest Park, Portland, OR
If forests, birding, wildflowers, and beautiful foliage is what you seek along a moderately challenging trail, this 5.7 loop will be the perfect day hike for getting out of the city. 
Mount Sutro Loop - Mount Sutro Open Space Reserve, San Francisco, CA
Switchbacks, towering trees, lush foliage, and gorgeous views of the city make this trail a popular option for those who live in the city but want a quick escape after a busy work day. 
Holbert Trail to Dobbins Lookout - South Mountain Preserve, Phoenix, AZ
The perfect moderate trail to get your heart beating while enjoying seasonal wildflowers, rocky terrain, and a challenging hike that's great for a beginner looking to push themselves. 
Proctor Creek Greenway Trail - Maddox Park, Atlanta, GA
Right outside Atlanta, nearly anyone can enjoy this 5.3-mile paved trail that offers wildlife and creek views. Walk the entire trail or just a portion for a quick lunchtime escape from the city.
LaBagh Woods Nature Observation Loop - Lincolnwood, IL
Head 30 minutes north of Chicago and you'll find this popular, flat trail for birding, fishing, and hiking that follows a river and has plenty of opportunities for wildlife viewing. 
Other trails that made the list:
Foster Island Trail - Washington Park Arboretum, Seattle, WA
Beacon Hill Loop Trail - Griffith Park, Los Angeles, CA
Mount Van Cott Trail - Foothills Natural Area, Salt Lake City, UT
Buffalo Bayou Loop - Buffalo Bayou Park, Houston, TX
Houston Arboretum and Nature Center - Houston, TX
Gunsight Ridge Trail - Red Rock Canyon National Conservation Area, Las Vegas, NV
Whites Creek Greenway - Hartman Park, Whites Creek, TN
Beechwood, Furnas, Ponderosa - Mount Airy Forest, Cincinnati, OH
White River Canal Walk - White River State Park, Indianapolis, IN
Evergreen Nature Preserve Loop - Evergreen Nature Preserve, Charlotte, NC
Richmond Riverfront Phase Trail - Brown Island Park, Richmond, VA
Kenilworth Aquatic Gardens and Park - Fairmount Heights, MD
Boxers Trail - Fairmount Park, Philadelphia, PA
Roosevelt Island Loop - NYC, NY
JOIN THE OBOZ FAST TRAIL CHALLENGE
If you're looking for some additional motivation to hit the trail—join our Fast Trail Challenge. 
During the Challenge, hike as many trails as you can in TEN days, 5/1 - 5/10. The more you hike, the more chances you have to win prizes from Oboz and other outdoor companies.
The Oboz Fast Trail Challenge is not about how far or fast you can go; it's about how often. Just choose any trail one mile or longer, record it on your tracking device, and you'll be entered to win. Even better—for every hike you complete during the Challenge, Oboz will plant one tree. If you complete a bonus trail, Oboz will plant two trees.
So, find a trail, grab your Oboz hiking shoes (and maybe a friend), and get ready to hit the trail!