I stir in my sleeping bag, listening as dawn animates the canyon wrens and ushers the bats to their roosts.
The first rays of sunlight splinter down the canyon walls and cast scarlet banners of daybreak along the tops of the cliffs. The gentle breath of the canyon's morning breeze rouses memories of hot coffee, and suddenly I'm sitting up in my bag watching the stillness of desert winters fade as the warm spring sunshine ignites color in the sandstone escarpments surrounding our humble camp. It's time for breakfast!
Breakfast in the backcountry is simple: instant oatmeal, granola, and Pop-tarts have never failed in delivering quick and easy sustenance to fuel the day's adventures. However, it's not hard to get into a rut and honestly, I'd be ok if I never had oatmeal ever again. My go-to hot breakfast recipe incorporates basic backcountry ingredients, has lots of calories, and all you need is boiling water.
My friend Jeremy taught me this recipe when we were guiding together in the mountains of Wyoming and it has been a backcountry staple ever since.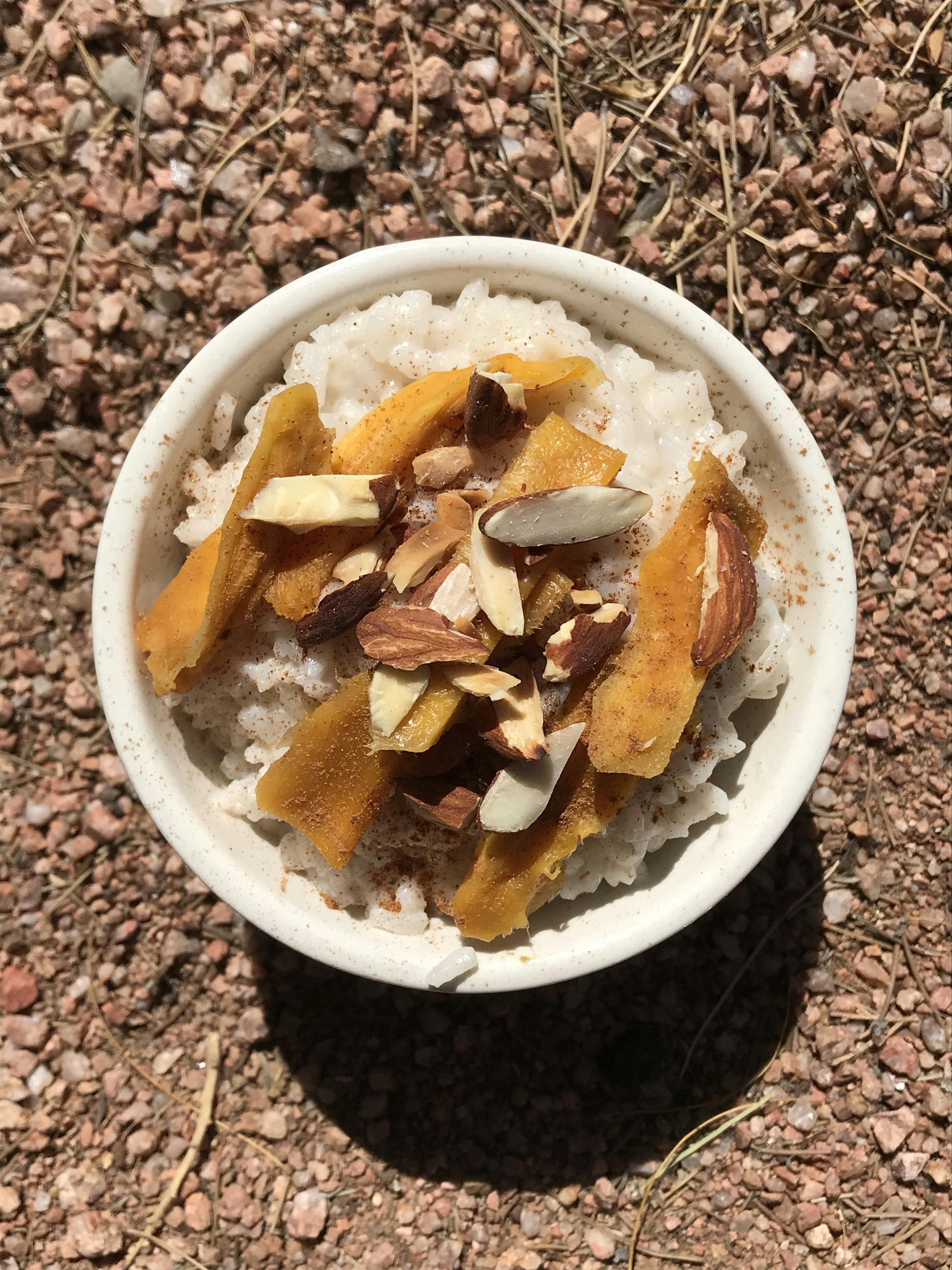 Jeremy's Backcountry Mango Coconut Rice
Before I flew to Thailand for the first time, my mom told me that if she were in my shoes she would eat mango sticky rice 3 times a day. Inspired by the toothsome Thai desert, this backcountry version of mango sticky rice is sure to please with its tropical flavors, simple ingredients, and quick prep.
Ingredients:
1/2 cup instant rice. It's not very sticky but cooks so fast.
1 cup water
1/4 cup sweetened dried mango, chopped (if using unsweetened mango, you'll want to add ½ tbs sugar to the recipe)
2-3 tablespoons dehydrated coconut milk powder
1/8 cup slivered almonds
1/4 teaspoon cinnamon
pinch of salt
First, I toast the almonds by tossing them around the bottom of the pot over medium heat. I toast them dry, but Jeremy would brown them in butter for more richness. They'll start to brown very quickly, then remove them from heat and set them aside. Put the mango in water and bring to a boil. When the water boils, remove the rehydrated mango and set aside. Add the rice, coconut milk powder, cinnamon and salt to the boiling water and stir well. Remove from heat and let sit until rice is soft, about 5 minutes. Place rice in a bowl, and top with the mango and almonds.
Most of the time I just end up throwing all the ingredients into the pot together and it turns out fine, if a little less pretty.
Enjoy, and Happy Trails!