As snow covers the ground, ponds freeze over, and coats quickly come out of storage, there is no denying that winter is here again. Although winter looks a bit different depending on your location, we all notice the sun rising a little later and setting a little earlier. As the season changes each year, there are some necessary adjustments to our exercise routines that have to be made in order to stay safe, comfortable, and motivated. Not to mention, it becomes a bit tougher to avoid the gravitational pull of the sofa and fireplace. 
In an effort to stay outside and stay hiking this season, we chatted with Oboz Outreach and Training Specialist, Krystina and came up with these four questions to ask yourself before hiking in the snow:
Can I get to the trail?
The snow is falling and the trailhead is calling! Before heading out on your snowy adventure, be sure to do some research. Due to inclement weather conditions, certain vehicles and tires may not be able to reach a trailhead parking lot. Additionally, wintertime often brings road closures, especially in recreation areas. For instance, some of our favorite roads in Yellowstone National Park have seasonal closures. The Forest Service, Bureau of Land Management, and All Trails are terrific resources to keep in your 'bookmarks.'
What socks should I wear?
Cold feet? We know the feeling.
When it comes to hiking socks, we always side with wool. When it comes to wool, it's easy to visualize a thick, scratchy sock typically found in an old drawer in the attic. But, brands like Darn Tough and Farm to Feet have changed the way we wear wool socks. With breathable, moisture-wicking, anti-microbial (non-stink) properties, wool socks are a must for the trek. 
Another consideration is doubling socks for warmth. We often do not recommend this, as it could constrict the foot and not allow for proper blood flow, which is necessary for producing heat. Whatever you choose, be sure you have enough room in your footwear for warmth to circulate, as this will provide additional insulation and, therefore, more fun-having.
Should I wear waterproof or insulated hiking boots…or both?
The answer to this question depends on your activity, location, and temperature that your body typically runs at. Waterproof boots with our B-DRY technology are a great option for any season when your feet are at risk for getting wet. This could include snow, river crossings, or a rainy day. A waterproof boot can also perform well on a chillier day, paired with a warm, wool sock. This B-DRY bootie is our proprietary waterproofing system that lets sweat escape while keeping moisture out. The bootie will also naturally retain some of the heat that the feet produce. Insulated, waterproof boots, such as the Sphinx Mid Insulated Waterproof are a great option for a cold, snowy, and icy day. The B-DRY bootie provides protection from your feet getting wet, while the insulation keeps the feet nice and toasty.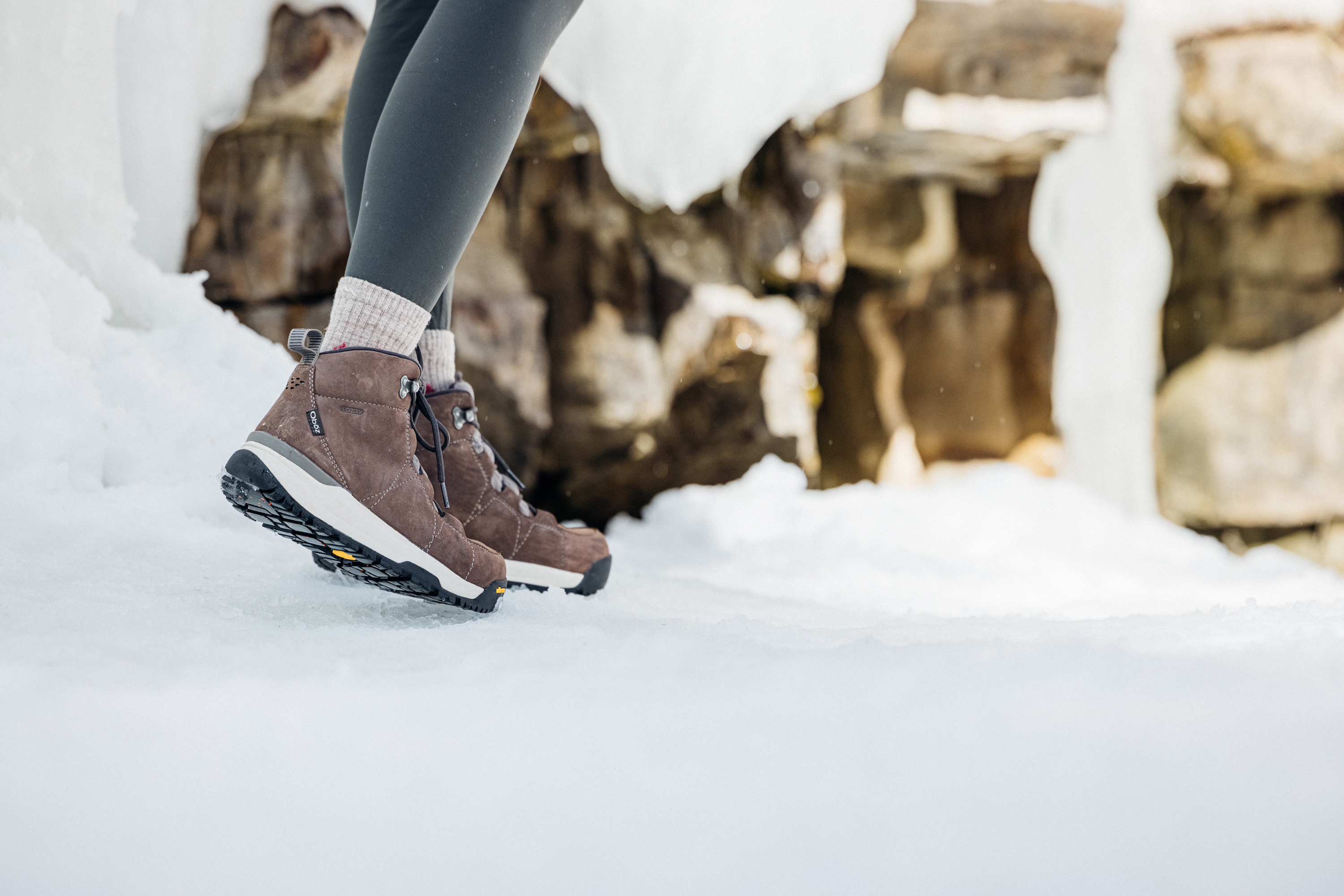 We recommend cleaning and re-waterproofing hiking footwear seasonally with Nikwax. Not only can this maintenance extend the lifespan of your footwear, it can also upkeep the breathability and water resistant characteristics of the footwear.
Should I wear micro-spikes or snowshoes?
Sounds like fun to us!
We recommend packing microspikes, snowshoes, or other traction implements whenever possible. Once you arrive at the trailhead, check out the conditions of the trail to see what could provide you with the most confidence on your hike. Microspikes can be extremely valuable on an icy path and are easy to pack along with you. Snowshoes can be great when the snow is voluminous and fresh. Be sure to keep in mind how the weather conditions might change along the route and the predicted forecast. Most notably, every Oboz Footwear is compatible with snowshoes or microspikes. Just be sure to select the correct size. 
Whether you're hitting a Main Street trail or the mountains, the Oboz crew wishes you a safe and adventurous winter hiking season. 
Did talk of winter hiking strike your curiosity? Feel free to reach out with additional questions to help@obozfootwear.com or message us on Instagram.