Guest story author Juliet Kennedy is part of the Oboz Truist community. She can be found on Instagram at @rural_valley_life.
The winter chill has arrived
and the waxing and waning temperatures of fall have settled into a constant cold. Where frigid nights turn to frosty mornings and snow softly drapes the mountain ranges in their winter cloaks. The trails that we hike in the spring and summer, typically abundant with flowers and foliage, are now buried under a thick cover of snow, turning the rugged hillsides into soft, pillowy mounds. As the weather turns colder, we pull out our snow gear and swap our summer hiking boots for our insulated waterproof pairs.  
The change of seasons gives us the opportunity to experience the outdoors in different ways and while many people view the onset of winter as an end to the hiking season, snowshoeing is a great way to extend your trekking adventures. The beauty of snowshoeing is that it isn't an overly complicated skill you have to learn, it can be as simple as walking your favorite trail in a different season. On the flip side, snowshoeing doesn't just have to be a peaceful stroll through the forest, it can also be as epic and adventurous as navigating untouched terrain in the remote wilderness.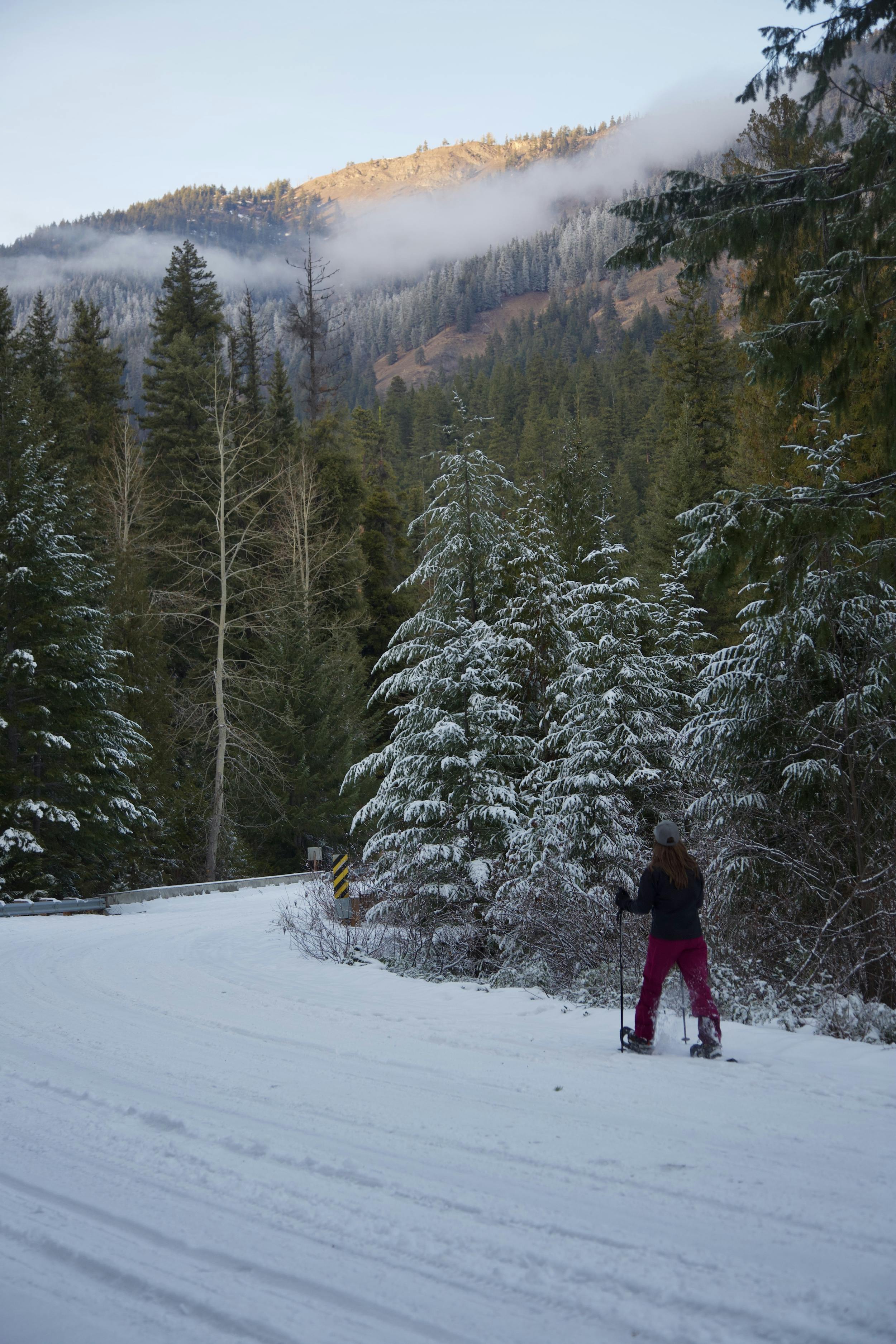 Many communities have year-round, multi-use trails that allow for all types of winter recreation from snowshoeing to Nordic skiing and fat biking. In the winter, there are specific trail designations to look for. Some routes are groomed solely for Nordic skiing where other trails allow for all types of winter sports. You can often find trail regulations through online searches or by calling into a trail management office to find more information. If you're fortunate enough to live in an area with well established trail systems, you may be able to find downloadable Apps for your area that are updated with trail reports and current conditions. 
It may seem frustrating that certain trails are not open for snowshoeing in the winter while they are open for other winter sports. The reason for this is for the safety of others and the maintenance of the trail. Snowshoes can leave uneven imprints on groomed trails and can destroy ski tracks, which is a safety concern for skiers. When using a multi-use trail for snowshoeing there are a few things you can do to be respectful of others. It is common etiquette for snowshoers to use the outsides of the trail to avoid walking directly in the groomed sections. It is also polite to yield for people going downhill and to step aside for skiers or bikers who are passing by with speed in either direction. Be mindful when you are using winter trails that you are not sinking down and creating "postholes". These holes freeze in low temperatures creating a solid icy pit that poses a serious risk to others recreating in that area. If you are hiking in the snow and start to sink down, that is a good indication that snowshoes are needed.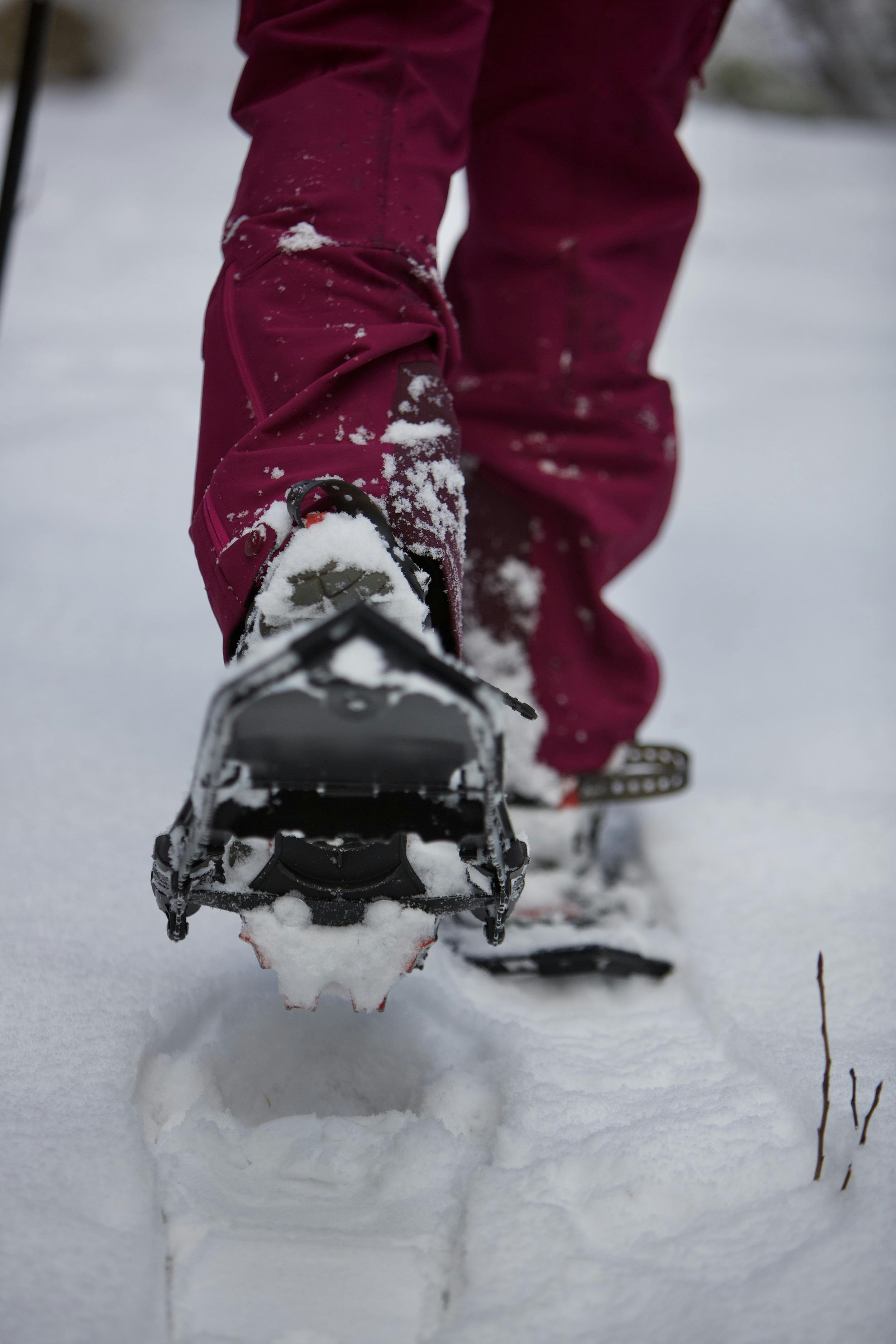 Sometimes the costs of enjoying winter sports can add up. After you consider the cost of the gear, trail passes and parking passes, it can be overwhelming. One fantastic benefit of snowshoeing is that you don't need to pay for a groomed trail to be able to enjoy it. It is fun to cut your own trails in the forest, tromping through fresh powder and exploring on your own. Federal lands can be a great place to adventure at no extra cost, you can find snowshoeing locations around the country in National Forests, through the Department of Natural Resources and through the Departments of Fish and Wildlife.
Snowshoe exploration is limitless; you can meander through the foothills, climb mountains, cross rivers and create your own adventure. Be mindful of your location when you are snowshoeing away from designated trails. Have a map and GPS with you so you don't get lost, and if you are venturing into the backcountry be sure to let people know about your plans and your anticipated return. Finally, it is always a good idea to have proper avalanche training when enjoying winter sports. Free courses can be found online and many emergency agencies offer in-person training sessions for avalanche safety. Have fun out there, be safe and stay true to the trail!